Electroporation-based treatments for canine and feline oral tumors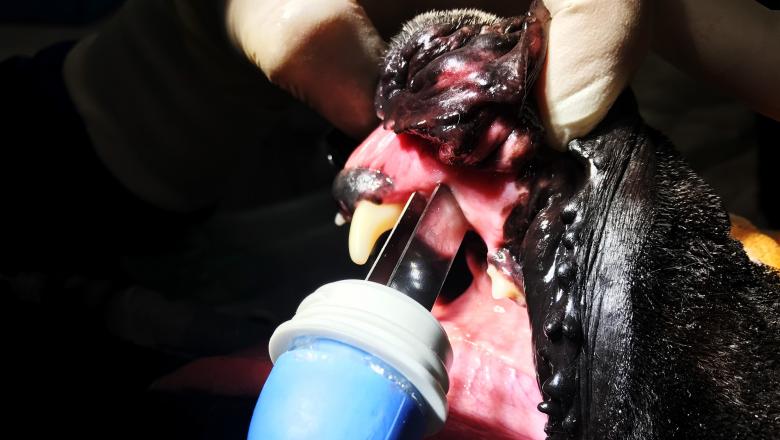 Electroporation-Based Treatments in Small Animal Veterinary Oral and Maxillofacial Oncology.
Canine and, unfortunatelly less, feline oral tumors are curable if diagnosed early and aggressively treated. In most cases, the best outcome is still achieved with aggressive surgical treatment. If the tumor is large or cannot be completely excised due to its location, surgery can be combined with other treatment types, including electrochemotherapy or gene electrotransfer.
Electroporation is a method in which electrical pulses are used to increase the permeability of the cell membrane. This allows the entry of molecules of interest through the membrane; electrochemotherapy is used to introduce chemotherapeutic drugs inside the tumor cells, whereas gene electrotransfer is used for insertion of plasmid DNA encoding a specific therapeutic gene into cells. Both methods have been proven safe and effective in the treatment of selected cutaneous and subcutaneous tumors in cats and dogs, and are increasingly used in the treatment of oral tumors. They are currently mostly recommended for the treatment of tumors for which clients have declined aggressive surgery and/or radiotherapy, as the treatment results in a good local response, prolongation of survival time and improvement in the quality of life. In the following article, we reviewed all the currently available research describing the use of electroporation-based treatments of canine and feline oral tumors.
At the Small Animal Clinic of the Veterinary Faculty we have been offering electroporation-based treatments for several years as a part of multimodal approach to treatments of tumors. We are committed to the best possible care of your animal while contributing to the development of these treatment methods worldwide. Please, do not hesitate to contact us if your animal was diagnosed with cancer to discuss the possibility of the treatment with electroporation-based methods. In the frame of the new research project "Monitoring of the clinical and immune response to improve the outcome of combined electrochemotherapy and IL-12 gene therapy in dogs with spontaneous peripheral tumours" we are improving these treatment methods further to best serve our patients.
The full article is published in Frontiers in Veterinary Science.
Authors
doc. dr. Ana Nemec1, Nina Milevoj1, dr. Urša Lampreht Tratar2, prof. dr. Gregor Serša2, prof. dr. Maja Čemažar2, prof. dr. Nataša Tozon1
1 Klinika za male živali, Veterinarska fakulteta
2 Oddelek za eksperimentalno onkologijo, Onkološki inštitut Ljubljana
The veterinarian on duty
Emergency veterinary assistance for dogs and cats and a telephone number of constant readiness.
Library
A wide selection of domestic and foreign professional literature in the field of veterinary medicine and other sciences.
News list
Subscribe to our service announcements and helpful tips.
Important Numbers
Registration number, Activity code, Bank Account, Tax code.
NVI On-Call Service
List of staff on standby for purposes of control.
Location
Gerbičeva 60
SI-1000 Ljubljana
Slovenija
Sample Reception
Samples are received at several locations throughout Slovenia. See where.