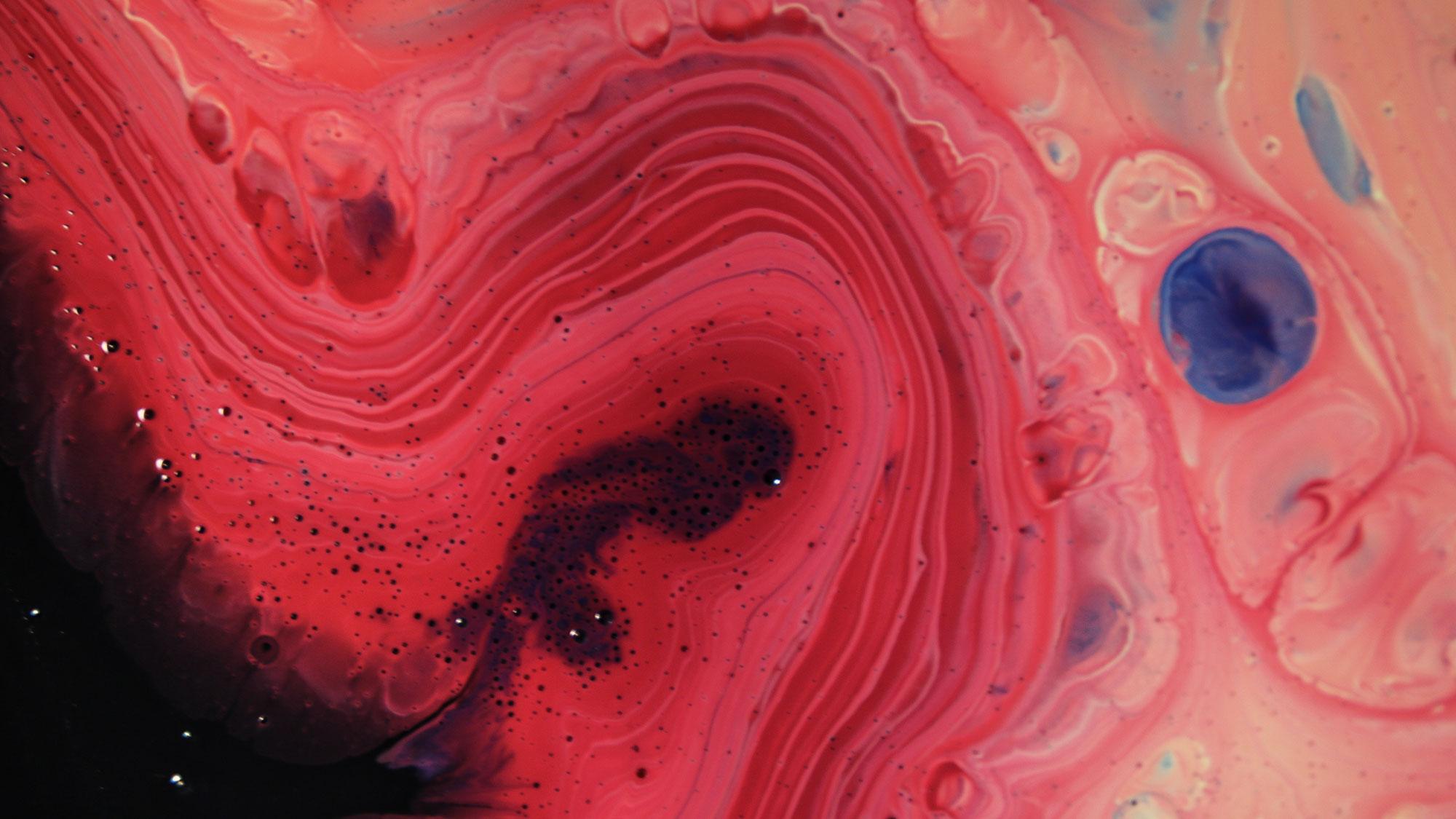 Študentski svet Veterinarske fakultete
Študentski svet je organ študentov Veterinarske fakultete, ki ga sestavljata po dva predstavnika vsakega letnika in dva predstavnika absolventov. Člane lahko volijo vsi študenti veterine, mandat članov pa traja eno leto.
Člani študentskega sveta izvolijo predsednika, podpredsednika in njuna namestnika, določijo pa tudi tajnika. Vsi člani Študentskega sveta kandidirajo prostovoljno in se s članstvom obvezujejo, da bodo delali v prid študentom, čeprav je študijske obveznosti včasih težko uskladiti z delovanjem na področju obštudijskih dejavnosti. Poleg delovanja na fakulteti pa se lahko člani udeležujejo tudi aktivnosti na Univerzi v Ljubljani, enkrat mesečno pa se sestane Študentski svet Univerze v Ljubljani, in člani ŠSVF so se ga dolžni udeležiti (predsednik ali namestnik).
Pri organizaciji projektov, se organizatorji ozirajo na same študente, na urnik in izpitna obdobja. Študentski svet sodeluje tudi z IVSA in Študentsko organizacijo Veterinarske fakultete.
Člani študentskega sveta obravnavajo študijske in študentske zadeve na sejah. Seje sveta so najmanj enkrat na dva meseca oziroma na zahtevo posameznih članov. Na sejah imajo člani pravico in dolžnost, da:
volijo predstavnike študentov v organe VF,
sprejemajo plan dela in finančni načrt,
podajajo mnenje o aktih in pravilnikih VF,
podajajo mnenje o kandidatih za dekana,
sodelujejo pri izvajanju ankete o pedagoškem delu,
izdajajo študentska mnenja o pedagoškem delu ob izvolitvah in ponovnih izvolitvah pedagoških delavcev in sodelavcev zaposlenih na fakulteti v naziv, kar je velika odgovornost in izjemno težka naloga, delo mora biti namreč opravljeno objektivno in nepristransko,
ob koncu študijskega leta izberejo najboljše učitelje,
izplačajo honorarje za izvedbo projektov pri katerih se pojavijo večji stroški,
predlagajo višino prispevka za študentski svet na posameznega študenta,
sodelujejo pri skrbi za notranji sistem zagotavljanja kakovosti.
| | | |
| --- | --- | --- |
| 1. letnik | Megi Sokač, Gaia Klara Mihalinec | |
| 2. letnik | Majcen Teja, Štrukelj Rebeka | |
| 3. letnik | Špela Janežič, Ana Rak | |
| 4. letnik | Klemen Kramarič, Nejc Trobevšek | |
| 5. letnik | Andraž Zrim, Ana Štajdohar | |
| 6. letnik | Ana Gotvajn, Tina Gazibarič | |
| Podpredsednik | Nejc Trobevšek | |
| Predsednica | Ana Gotvajn | |
Zastopanje fakultete na: 
Pozdrav brucem,
predstavitev VF po različnih gimnazijah,
predstavitev VF na Informativi,
predstavitev VF na informativnem dnevu,
vodenje srednješolcev iz Biotehniške šole Maribor po VF...
Sofinanciranje študentskih aktivnosti:
Brucovanja,
nakup akvarija za Krištofa,
Tek trojk 2019,
organizacija Veterinijade 2019…
Šahovski krožek
Je šah tvoja najljubša prostočasna igra za trening in ostrenje duha? Morda pa šele razmišljaš, da bi se naučil igrati šah?
Vabimo vse zainteresirane študente, profesorje, podiplomske študente in absolvente, da se nam pridružite!
Vsako sredo v podiplomski predavalnici od 18.00 do 20.00.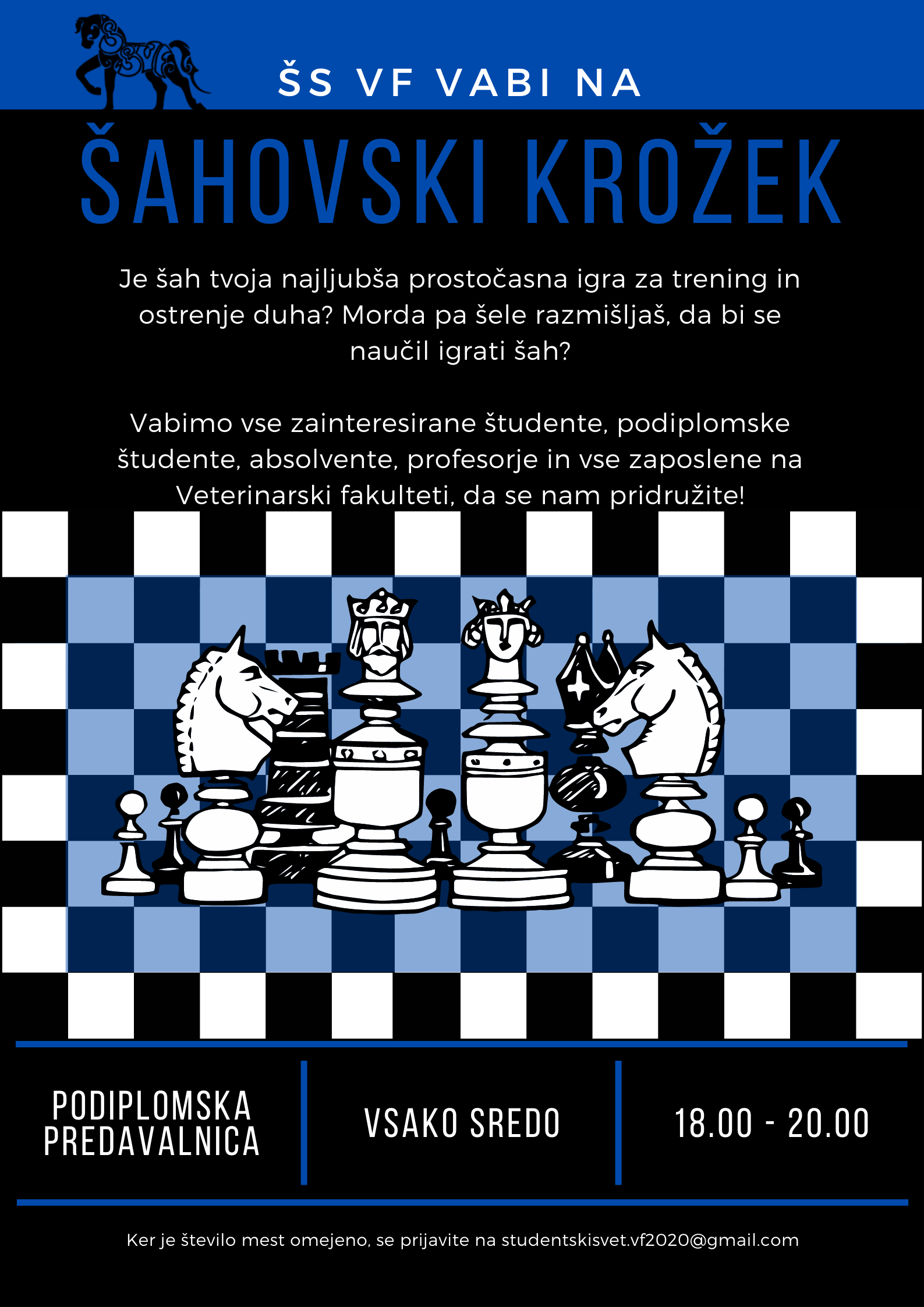 The veterinarian on duty
Emergency veterinary assistance for dogs and cats and a telephone number of constant readiness.
Library
A wide selection of domestic and foreign professional literature in the field of veterinary medicine and other sciences.
News list
Subscribe to our service announcements and helpful tips.
Important Numbers
Registration number, Activity code, Bank Account, Tax code.
NVI On-Call Service
List of staff on standby for purposes of control.
Location
Gerbičeva 60
SI-1000 Ljubljana
Slovenija
Sample Reception
Samples are received at several locations throughout Slovenia. See where.