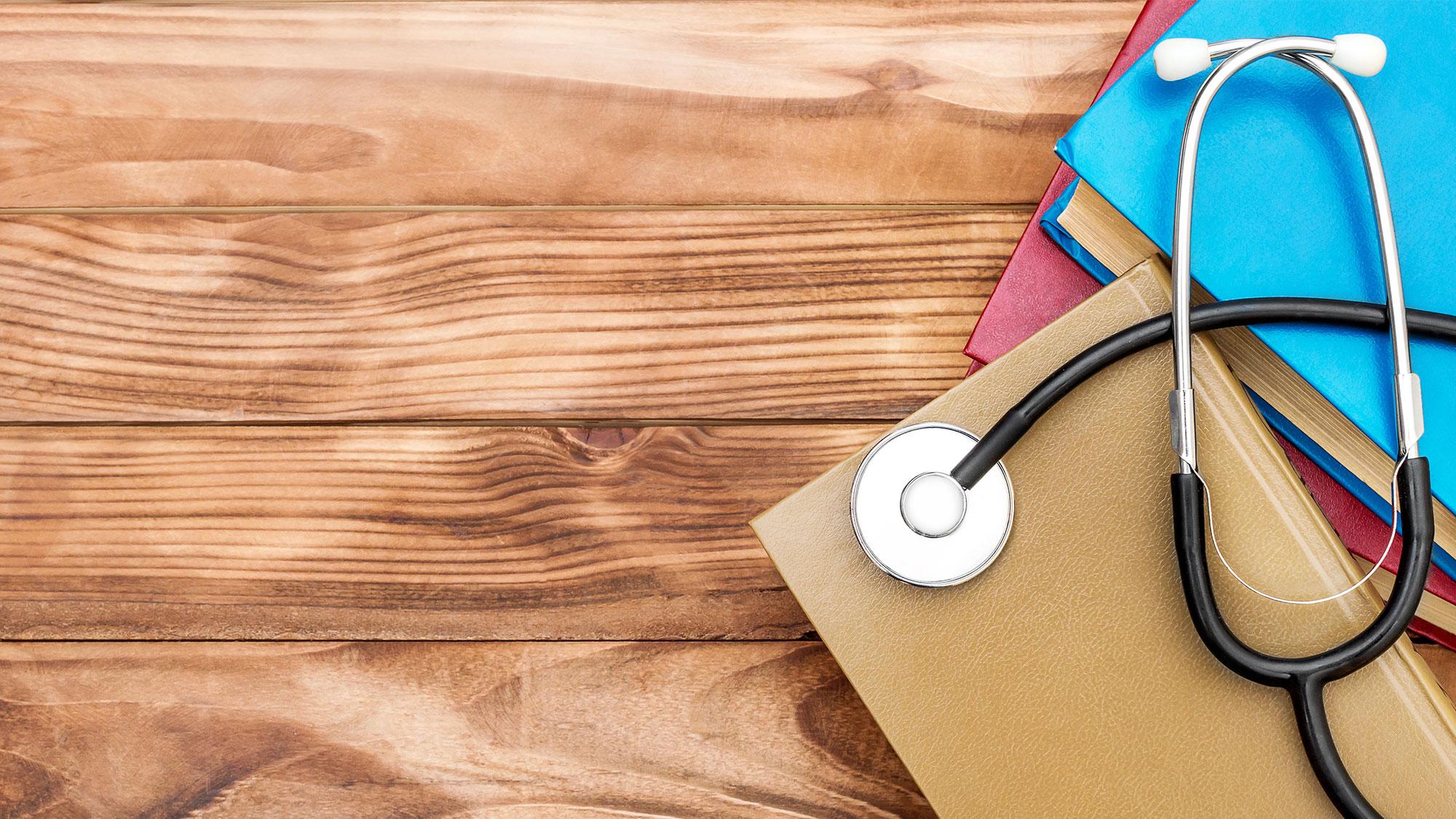 Overview
The emphasis is on practical training (clinical rotations) in all areas of veterinary activities. By choosing six elective courses, students can deepen their knowledge in the area in which they will be employed.
Mandatory Subjects
In the academic year 2022/2023, the old study program is valid for mandatory subjects of the Year 6.
L – Lectures
S – Seminars
P – Practical Work
CP – Clinical Practice
OFS – Other forms of study
OW – Own Work
ΣCH – Contact Hours
ECTS – European Credit Transfer System
Fall Semester
| | | | | | | | | | |
| --- | --- | --- | --- | --- | --- | --- | --- | --- | --- |
| Subject | Supervisor | L | S | P | CP | OFS | OW | ΣCH | ECTS |
| Clinical rotations | Modest Vengušt | | | | 35 IP | 295 | | 330 | 11 |
| Extramural clinical rotations | Modest Vengušt | | | | | 180 | | 180 | 6 |
| Student research assignment | | | | | | 5 | 85 | 90 | 3 |
| Elective course 7 | | | | | | | | | 3 |
| Elective course 8 | | | | | | | | | 3 |
| Elective course 9 | | | | | | | | | 3 |
IP - Individual Practice (up to 3 students in a group)
Spring Semester
| | | | | | | | | | |
| --- | --- | --- | --- | --- | --- | --- | --- | --- | --- |
| Subject | Supervisor | L | S | P | CP | OFS | OW | ΣCH | ECTS |
| Clinical rotations | Modest Vengušt | | | | 35 IP | 295 | | 330 | 11 |
| Extramural clinical rotations | Modest Vengušt | | | | | 150 | | 150 | 5 |
| Elective course 10 | | | | | | | | | 3 |
| Elective course 11 | | | | | | | | | 3 |
| Elective course 12 | | | | | | | | | 3 |
| Final exam for obtaining the title of doctor of veterinary medicine | | | | | | | 180 | 180 | 6 |
IP - Individual Practice (up to 3 students in a group)
Supervisor: Modest Vengušt
Practical work under professional supervision:
familiarisation with current clinical, outpatient and field work in the morning
taking medical histories, conducting clinical and laboratory examinations of patients, making diagnoses, preparing an animal treatment plan or making other decisions based on an animal's health
communication with experts, clients and other veterinary institutions
Supervisor: Modest Vengušt
Students gain practical experience at the providers of veterinary healthcare services and public veterinary/inspection service activities and learn about work at veterinary institutions in Slovenia and/or further afield. Extramural clinical rotations means the active treatment of veterinary problems under the supervision of a professionally qualified mentor with an appropriate veterinary licence.
Execution
Clinical practical training can be carried out at clinical units of the Faculty of Veterinary Medicine and verified veterinary clinical institutions outside the Faculty of Veterinary Medicine in Slovenia and/or further afield.
Public veterinary service/inspection activities are carried out within the National Veterinary Institute, the Administration of the Republic of Slovenia for Food Safety, Veterinary Sector and Plant Protection, the Vremščica Infrastructure Centre for Sustainable Recultivation, in a cheese factory or similar institutions abroad. To a limited extent, the public veterinary part/ inspection activities can be carried out as part of the selective breeding of equidae.
Precise timing of the implementation of professional practice
Within the subject Professional Practice, students must complete at least 60 contact days of practical work, of which at least 50 contact days are in a clinical environment and at least 10 contact days must be completed in the inspection/analytical activities of the public veterinary service.
As part of the clinical part of the professional practice (at least 50 contact days), students must complete:
at least 14 contact days of practice at the Clinic for Small Animals of the Faculty of Veterinary Medicine
at least 12 contact days of practice at a large practice/producer of animals
at least 24 contact days of practice on the species of your choice
students must participate in at least six (6) 24-hour shifts; of which they must carry out at least four (4) 24-hour on-call duties in practice with production animals
Part of the 24-hour duty can be done through an internship at the Vremščica Infrastructure Centre for Sustainable Recultivation during lambing.
Inspection work - public veterinary service (at least 10 contact days):
in units of the National Veterinary Institute (NVI)
the Administration of the Republic of Slovenia for Food Safety, Veterinary and Plant Protection (UVHVVR)
at foreign institutions providing a public veterinary service similar to the NVI and/or the UVHVVR
the dairy of Vremščica Infrastructure Centre for Sustainable Recultivation
Students can complete a maximum of five contact days of professional practice carrying out inspection/analytical work, also within the selective breeding of equidae at the Faculty of Veterinary Medicine.
During the period of professional practice, students must complete the prescribed documents, which record the fulfilment of obligations in the internship and are the basis for the evaluation and discussion of the practical work of students with the coordinator of professional internship.
A student may participate in professional practice in the 6th year by volunteering with a professional practice provider who has signed a contract with the VF to provide professional practice.
Encouraging students to deepen and analyse processing of knowledge of veterinary medicine
Encouraging students to deal with long-term study material and knowledge
Preparation for independent production of scientific and/or professional works
Independent searching and processing of literature from various analogue and electronic bibliographic sources
Independent public presentation
Elective Subjects
The student enrolls in 3 courses in each semester, a total of 6.
The student can also enrol in any subject from the Year 4 and 5 that he has not yet enrolled in. The student enrolls in 3 courses in each semester, a total of 6.
L – Lectures
S – Seminars
P – Practical Work
CP – Clinical Practice
OFS – Other forms of study
OW – Own Work
ΣCH – Contact Hours
ECTS – European Credit Transfer System
Fall Semester
Subject

Supervisor

L

S

P

CP

OFS

OW

ΣCH

ECTS

Clinical Laboratory Practical Course

Martina Klinkon O.

Jožica Ježek

10
20 LAB*
60
90
3
Anaesthesiology
Alenka Seliškar
15
30 IP
45
90
3
Veterinary Dentistry
Ana Nemec
12
4
8
16
50
90
3
Dermatology of dogs and cats
Tina Kotnik
8
22
60
90
3
Dietetics of dogs and cats
Breda Jakovac Strajn
10

5 SP

10 LAB

5 TPT
60
90
3
Breeding and Health care of Game and Wild Animals in Enclosures
Gorazd Vengušt
20
15
10 TPT
45
90
3
Veterinary Proficiency
Mitja Gombač
30
60
90
3
Practicum on health care of pigs
Marina Štukelj
5
40
45
90
3
Emergency medicine of dogs and cats
Darja Pavlin
15
25
50
90
3
Microbial and antimicrobial environment in veterinary medicine

Modest Vengušt

Irena Zdovc

30
15
10 LAB
35
90
3
LAB - Laboratory Practice (up to 18 students in a group); LAB* - Laboratory Practice (up to 9 students in a group); SP - Seminar Practical Work (up to 30 students in a group); TPT - Terrain Practical Training (generally one group); IP - Individual Practice (up to 3 students in a group)
Spring Semester
Subject

Supervisor

L

S

P

CP

OFS

OW

ΣCH

ECTS

Clinical Oncology in Veterinary Medicine
Nataša Tozon
16
6
23 IP
45
90
3
Herd Health Management Course
Andrej Pengov
30
60
90
3
Cardiology of Dogs and Cats
Aleksandra Domanjko Petrič
10
20
60
90
3
Equine Sports Medicine
Modest Vengušt
10
20
60
90
3
Honeybee Society and its Diseases
Vlasta Jenčič
10
2
15 LAB
20
3 TPT
40
90
3
Communication skills in veterinary medicine 2
Metka Kuhar
15
30 SP
45
90
3
Busines and entrepreneurship in veterinary medicine

Jaka Žgajnar

Emil Erjavec

15
15
60
90
3
Food Fraud
Urška Jamnikar Ciglenečki
5
25
60
90
3
LAB - Laboratory Practice (up to 18 students in a group); SP - Seminar Practical Work (up to 30 students in a group);TPT - Terrain Practical Training (generally one group); IP - Individual Practice (up to 3 students in a group)
It is only possible to enrol in each elective subject once during study. With the prior consent of the Commission for Study and Student Affairs, students can achieve 5% of the credit points of the programme through external election of general elective courses and compulsory general courses in programmes at the University of Ljubljana or other universities in Slovenia.
Following completion of enrolment and based on a student's written and substantiated explanation, the vice-dean for the pedagogical field can approve a change of the elective subject up to 20 October and inform the Commission for Study and Student Affairs. Subsequent changes of elective subjects are no longer possible.
With the prior consent of the Commission for Study and Student Affairs or the coordinator for international activities, students may transfer part of the study programme from any programme of study of veterinary medicine at a veterinary educational institution listed in the list of verified institutions EAEVE (European Association of Establishments for Veterinary Education).
Supervisor: Martina Klinkon Ogrinec, Jožica Ježek
In this subject, students enhance their theoretical and practical knowledge in the field of clinical laboratory diagnostics (clinical pathology). Students will be able to properly prepare samples, perform the most common laboratory analyses, select appropriate parameters (investigations) in connection with clinical pictures, and evaluate and interpret the results of laboratory analyses in different species of animals.
Subject Description
In veterinary medicine, the examination of biological material is an important adjunct in making a reliable diagnosis and prognosis of the disease and monitoring the course of treatment. Nowadays, much of veterinary science is directly related to laboratory diagnostics. A reliable laboratory report helps to assess the state of health and ensures quality and effective treatment.
The aim of the clinical/laboratory practicum is to deepen students' knowledge of the use of the most common laboratory analyses of biological samples in various species of domestic and other animals:
Haematological and biochemical blood tests
Biochemical tests of milk
Urine tests
Investigations of samples of various biological materials
The emphasis is on the interpretation of the results of examinations in connection with the clinical picture of the disease in an individual animal or herd.
With the acquired theoretical and practical knowledge, students will learn to use the results of laboratory analyses in practice as an aid in the diagnosis of diseases and assessment of the health status of various species of animals.
Methodology and Teaching Aids
The practicum is conducted in the form of theoretical and practical lessons in a clinical laboratory (Laboratory of Clinical Pathology). Biological material taken from clinical patients is analysed. A variety of laboratory equipment and apparatus is available. Students are divided into groups and perform analyses independently.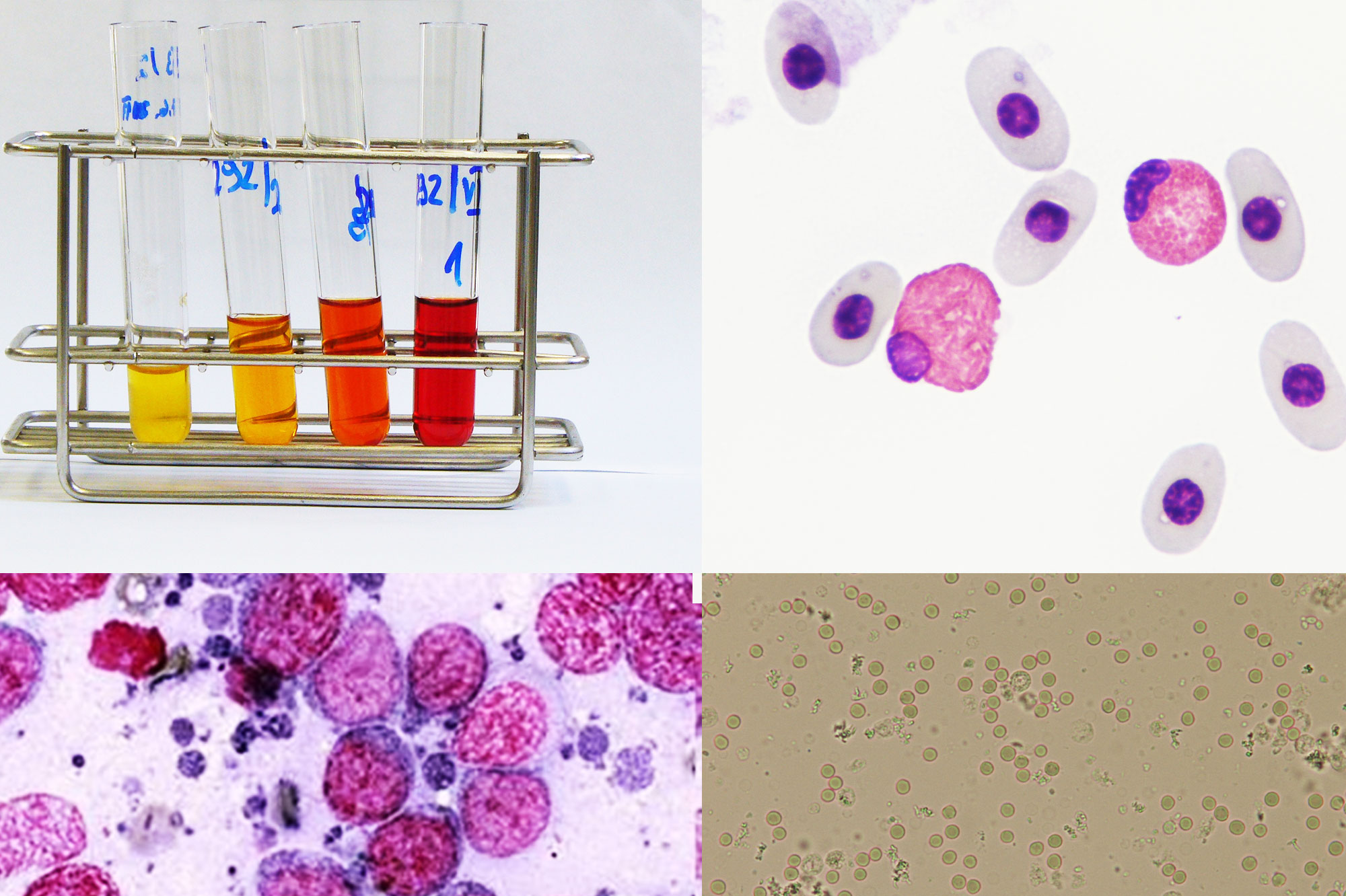 The elective subject Anaesthesiology is taught in year six of the undergraduate study of veterinary medicine.
The course includes 15 hours of lectures and 30 hours of individual clinical exercises. The lecturer is Associate Professor Alenka Seliškar, assisted by Assistant Professor Barbara Lukanc. They are also assisted by Katerina Tomsic, Phd, Matic Pavlica, DVM, and Jerneja Sredenšek, DVM.
Aim of the subject
The aim of this subject is to familiarise students of veterinary medicine with the basics of veterinary anaesthesiology. It is expected that each candidate will be able to anaesthetise animals with a lower anaesthetic risk under appropriate supervision. The course is particularly recommended for those students who want to continue their professional path in a small practice. All surgical, dental and some diagnostic procedures are performed on anaesthetised animals, thus lack of, or poor, knowledge of anaesthesia severely limits veterinarians' work. As a result, all too often this results in short-term interventions in young, healthy or less affected animals. The real challenges of treating old or critically ill animals are avoided due to the high anaesthetic risk as a result of poor knowledge of anaesthesia, which thus lowers the level of veterinary practice services.
Anaesthesia techniques for horses and economic species are not considered in this course, as students learn the basics in other subjects. Nevertheless, those who intend to work in a large practice will gain a lot of knowledge in this subject that will be useful to them when working with large animals, as the basic principles of anaesthesia apply to all animal species.
Connection with other fields
The subject is highly interdisciplinary. In its theoretical foundations it touches on anatomy, physiology, pathophysiology and pharmacology, while in the clinical part it deals with internal medicine, surgery and intensive care medicine. In the practical part it combines knowledge of diagnostics, internal medicine and surgery and is one of the most specialised clinical subjects in the undergraduate study of veterinary medicine.

Programme of lectures and training
Lectures are held according to the following programme:
Introduction and brief history of anaesthesia
Control of animals during anaesthesia
Cardiopulmonary resuscitation
Pain treatment
Local and area anaesthesia
Special anaesthesia (pets, farm and laboratory animals)
Basic anaesthesia protocols in healthy cats and dogs
Basic anaesthesia protocols in sick cats and dogs
Complications during anaesthesia 
Lectures build on the material that students complete in year three in the module Anaesthesia within the compulsory subject Surgery and Ophthalmology. In year three, students are familiarised with the following chapters:
Procedure prior to anaesthesia
Premedication
Injectable anaesthetics
Inhalable anaesthetics
Inhalation apparatus and respiratory systems
Pain treatment
Control of animals during anaesthesia
Specifics of anaesthesia of individual animal species
Basics of resuscitation
Basics of intensive care for critically ill animals
Following the lectures, students present a clinical case to their fellow students in pairs. They then begin individual clinical exercises performed on clinical patients at the Small Animal Clinic. Individual clinical exercises are conducted on the principle of one student one anaesthetist, which is the only acceptable approach due to the nature of the work and the responsibility of the anaesthetist.
Individual exercises include:
Admission and clinical examinations of animals
Assessment of condition and selection of anaesthesia technique
Preparation of animals (premedication, demonstration of basic methods of restraining of cats and dogs, control of aggressive animals, introduction of venous catheters, introduction to anaesthesia, endotracheal intubation)
Anaesthesia management, writing anaesthesia protocols, monitoring
Postoperative care and intensive care of animals
Administering fluid therapy

Student responsibilities
After completing the exercises, students take an oral colloquium (Assistant Professor Barbara Lukanc) and then an oral exam (Associate Professor Dr. Alenka Seliškar).
Study literature is available in the e-classroom, the Faculty of Veterinary Medicine library, from the course providers and on the internet.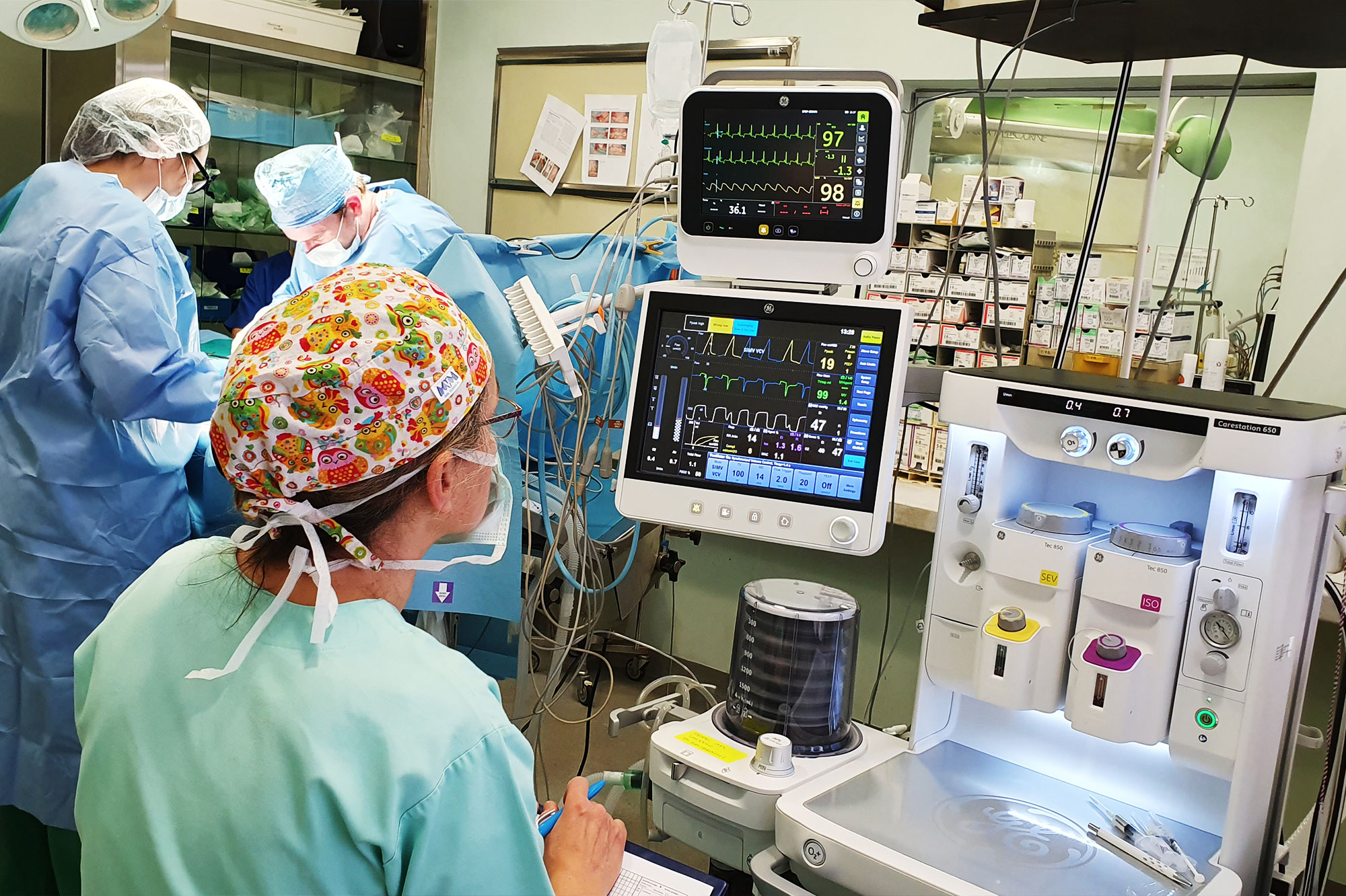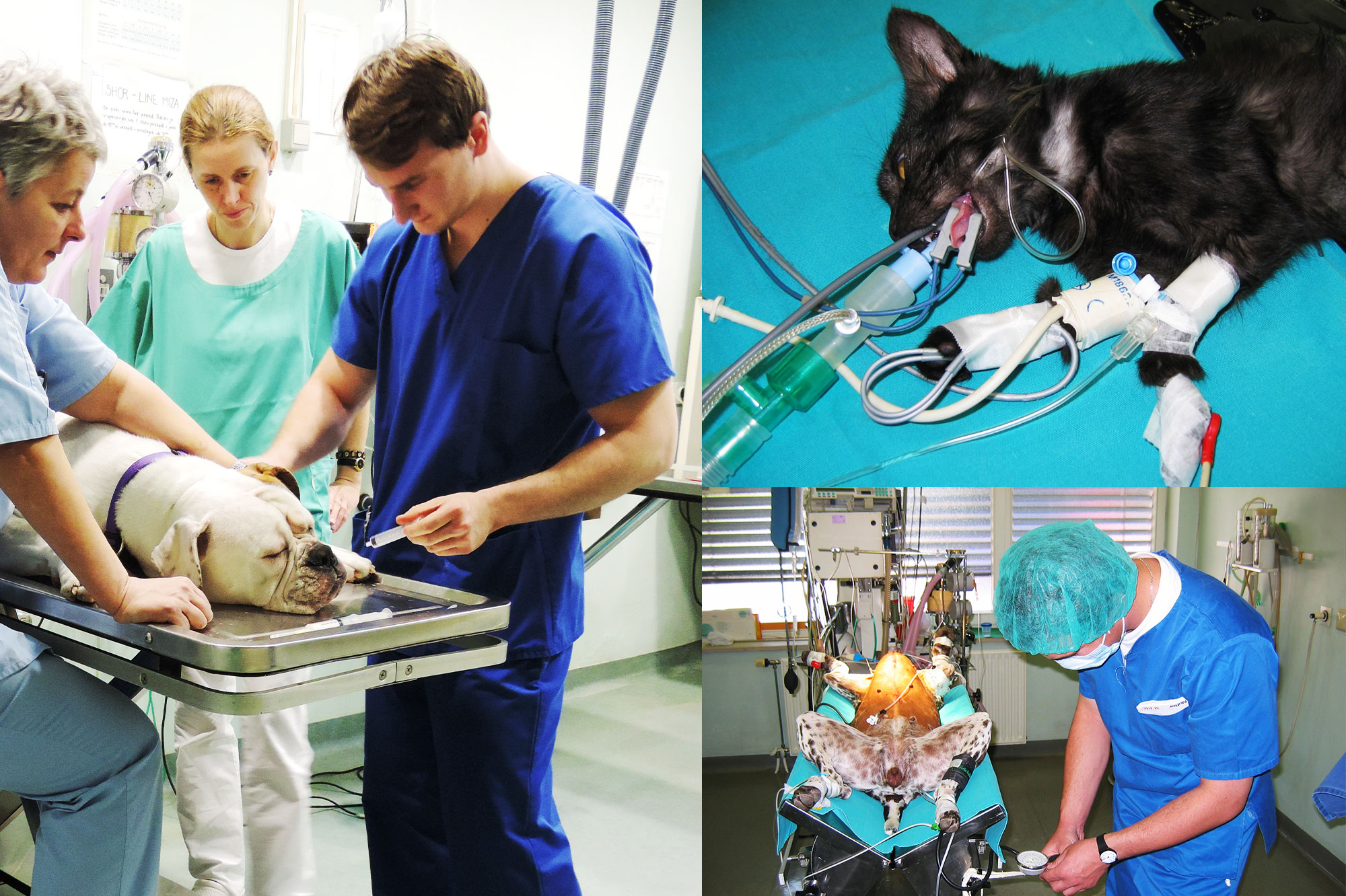 This subject deals with the most common diseases of the maxillofacial region, oral cavity, teeth and periodontal tissues in cats and dogs. In the lectures, students are familiarised with the appropriate minimum equipment of dental surgeries, recap their knowledge of anatomy, histology and physiology of the oral cavity and teeth, and learn how to obtain a correct anamnesis and examination of the oral cavity, teeth and periodontal tissues, including dental X-rays. Following the lectures and practical exercises, students are able to identify periodontal diseases, traumatic injuries of the teeth and maxillofacial regions, tooth resorption, cat stomatitis, emergencies in veterinary dentistry and the most common neoplasms in the oral cavity. They will also learn how to treat such conditions and/or refer patients to a specialist if necessary. In 2019, students rated the course as excellent.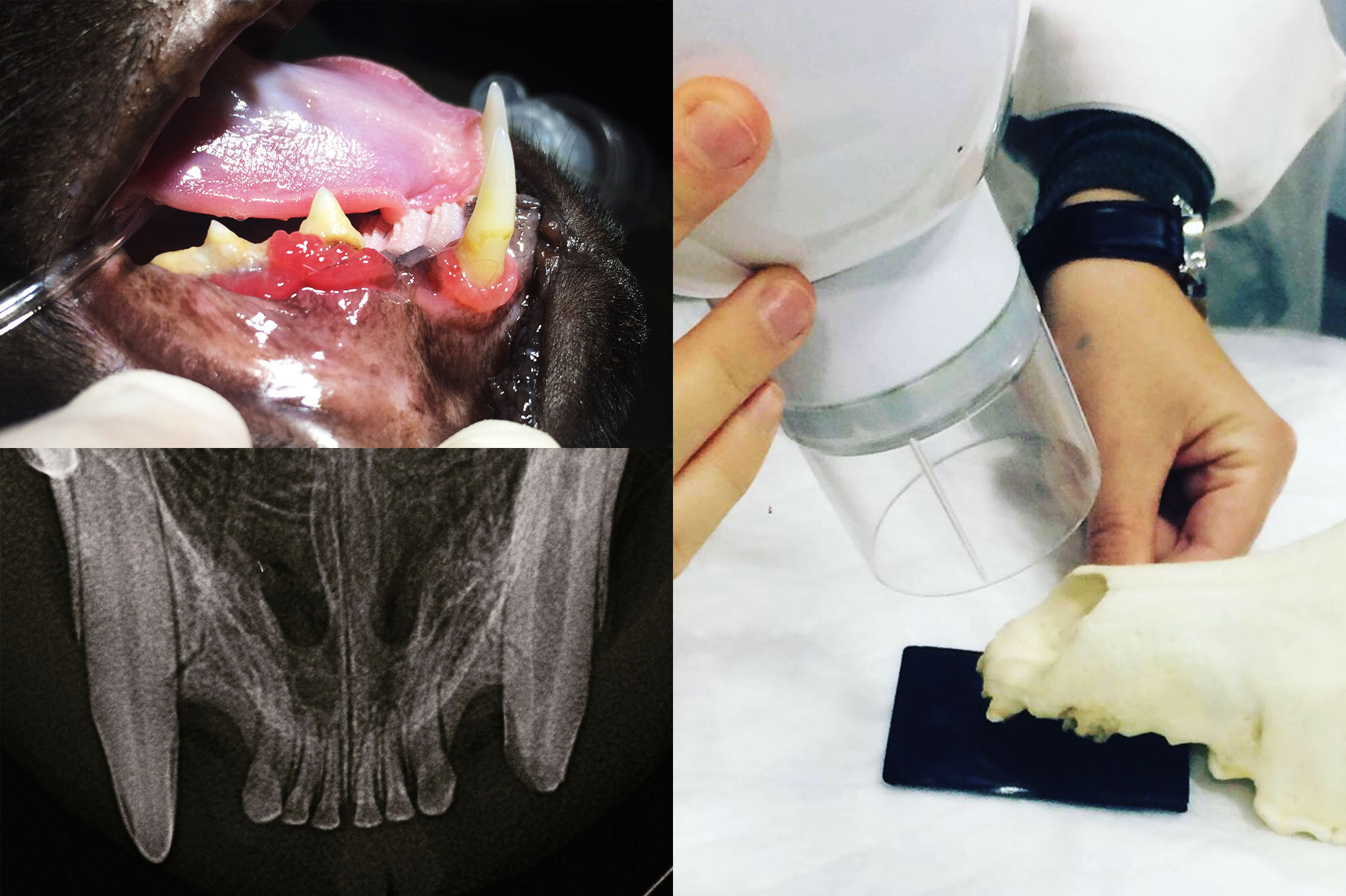 Supervisor: Nataša Tozon
Students learn the basics of diagnosis and treatment of oncology patients. Clinical exercises are intended for direct work with patients and learning basic diagnostic procedures (biopsy techniques, appropriate selection of diagnostic methods, learning about treatment methods). The seminar task gives students an opportunity to practice written and oral (presentation) expression and performance skills in front of an audience. Students also visit the Department of Experimental Biology at the Oncology Institute, where they learn about preclinical research work in the field of cancer detection and treatment, and the Department of Radiotherapy at the Oncology Institute in Ljubljana, where they learn about human radiology.
Lectures (16 hours)
Lectures include a summary of acquired knowledge and an introduction to clinical work:
Tumour biology (Professor Maja Čemažar; Oncology Institute)
Basic diagnostic and therapeutic principles in veterinary oncology (Professor Nataša Tozon, Associate Professor Dr. Tanja Plavec)
Some of the most common oncological diseases of cats and dogs (Professor Nataša Tozon)
Some of the most common oncological diseases of other animal species (Assistant Professor Joško Račnik)
Current research in the field of translational and clinical oncology (Professor Nataša Tozon)
Clinical exercises (18 hours)
Clinical exercises include direct work with patients:
In 3 hours of programme exercises students learn the basic techniques of biopsies, preparation of preparations and methods of staining. The acquired knowledge is then applied directly in a 3-day clinical practice, which provides an insight into clinical developments in the field of veterinary oncology, including the basics of diagnostic cytology.
The aim of clinical exercises is to demonstrate:
Diagnostic procedures
Clinical examination of an oncology patient - identification and determination of potential oncological changes
Selection of appropriate diagnostic methods for determining the characteristics of changes and the clinical stage of the disease (biopsy techniques, basics of clinical cytology, imaging techniques, laboratory tests)

Method of treatment
Communication with owners
Selection of the most appropriate antitumour treatment
Selection of appropriate supportive care
Monitoring the course of treatment and expected results

Seminar (6 hours)
Students prepare a seminar task of their choice individually and present it to their fellow students in order to supplement the topics of the lectures and to enhance their skills at writing and performing in front of an audience.
Field exercises (3 hours)
Students will visit the Oncology Institute in Ljubljana:
Department of Experimental Oncology, where students will learn about research work in the field of basic and applied/translational oncology 
Radiotherapy sector, where students will be taken through the process of preparation and treatment of people using radiotherapy
Supervisor: Andrej Pengov
The main objective of the organisation of health and production control systems (herd health) in herds of animals whose products are used for human consumption is to maintain the health status of animals and their productivity at a level that provides owners with the highest income. We try to achieve this goal by constantly monitoring health and production results and by eliminating possible errors and shortcomings.
Learning about skin diseases of cats and dogs by individual groups (bacterial, fungal, parasitic ... etc.), learning about methods and procedures in the diagnosis of skin diseases, the general principles of skin disease treatment and specific treatment for individual diseases, and clinical work including communication skills, interdisciplinarity and teamwork.
Students who work in a small practice following graduation may one day find eight cats and dogs and their owners waiting for them in the waiting rooms. As many as six of these animals may have skin problems ... It is estimates that as many as three-quarters of cats and dogs who come to the vet for help come because of skin problems or have skin problems in addition to an underlying disease.
Through the course of eight lectures, students will acquire theoretical declarative knowledge, which will be the basis for practical work with patients. Each lecture will be rounded off with an interactive presentation of clinical cases (medical history, photographs), thus students continuously consolidate their acquired knowledge.
Prior to starting practical work, students undertake a written colloquium (elective assignments). This will be followed by programme exercises where diagnostic procedures in dermatology are learnt followed by exercises with clinical patients. During the clinical exercises, students take a medical history, perform clinical and dermatological examinations of patients, collaborate in making a diagnosis and monitor patients' treatment.
Students take an exam at the end of the practicum whereby they treat a patient in the Dermatology Clinic of the Clinic for Small Animals. Students' knowledge will be assessed based on two assessments: an assessment of theoretical knowledge (written colloquium) and an assessment of practical work with the patient.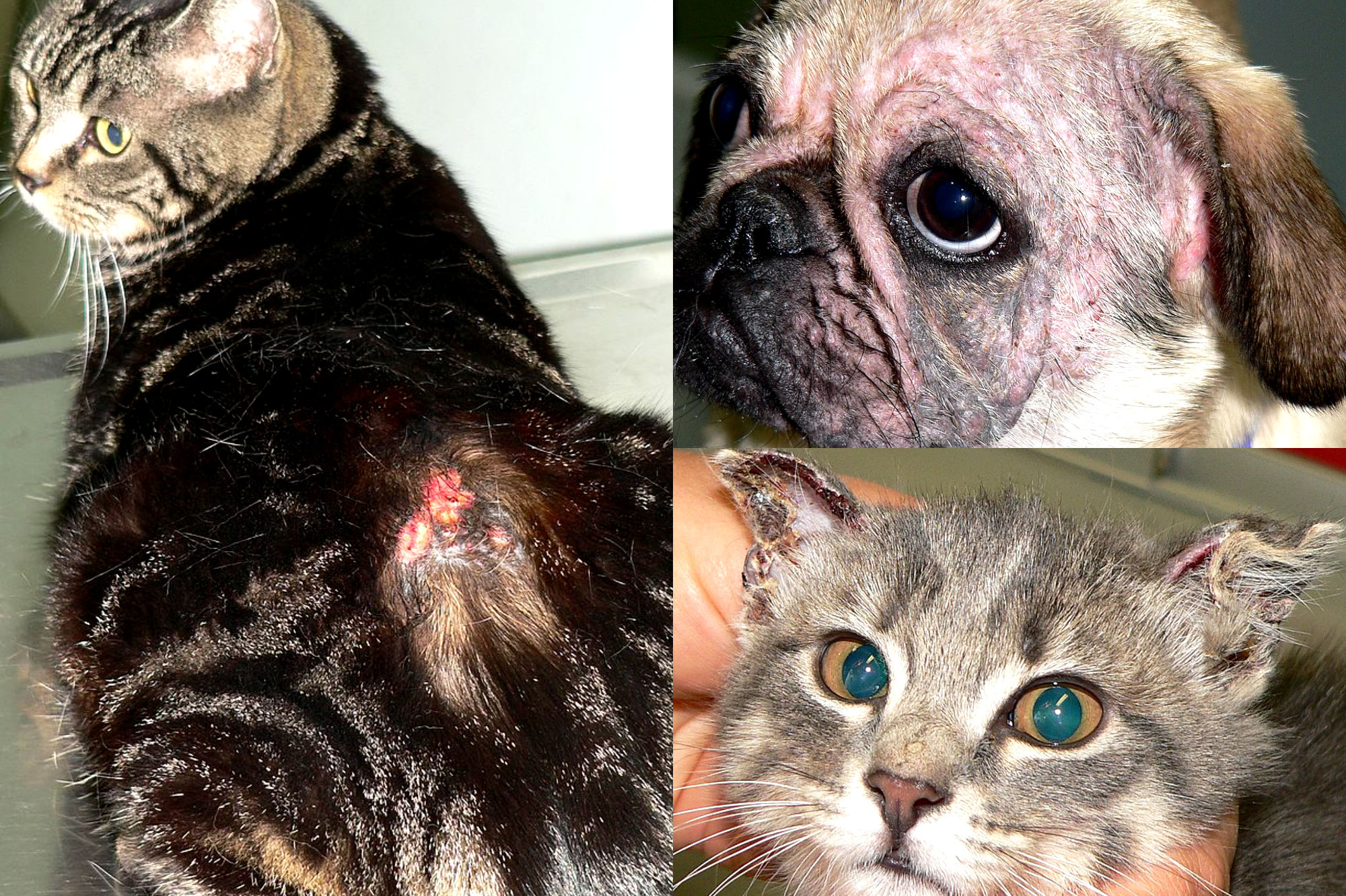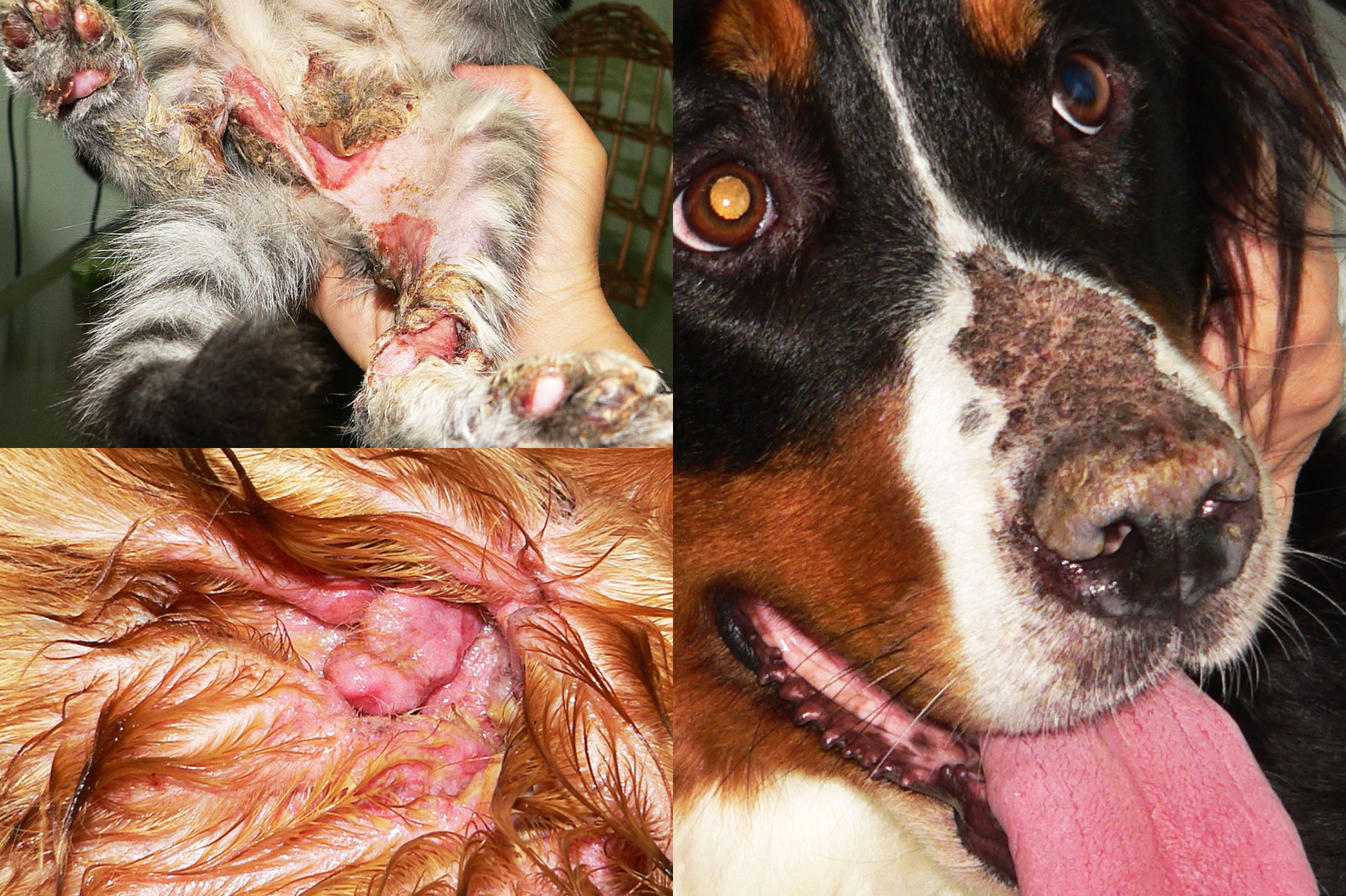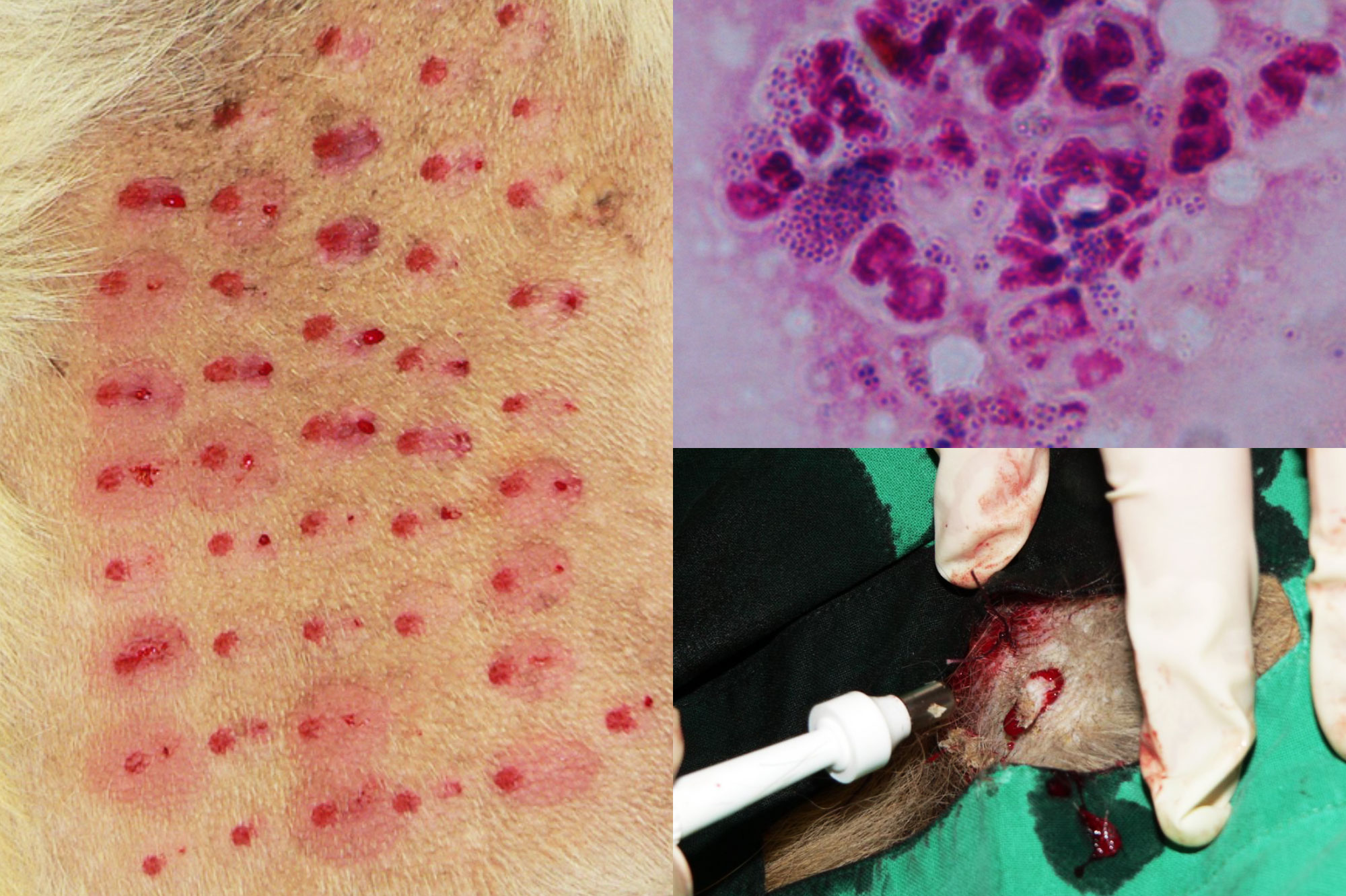 Supervisor: Aleksandra Domanjko Petrič
Cardiovascular diseases in cats and dogs are quite common diseases that can lead to heart failure, sudden death, and pose a risk for anaesthesia, while also affecting the quality and length of life of the patient. For pet owners, this can also mean the risk of losing a pet in all periods of an animal's life.
Identifying and correctly assessing the condition is therefore important for the quality of life of patients and coexistence with their owners.
In practice, veterinarians often face challenges in identifying, for example, why a dog is coughing, why it has difficulty breathing, or whether it is a lung or heart problem. Proper differentiation and diagnosis are crucial in resolving such clinical problems.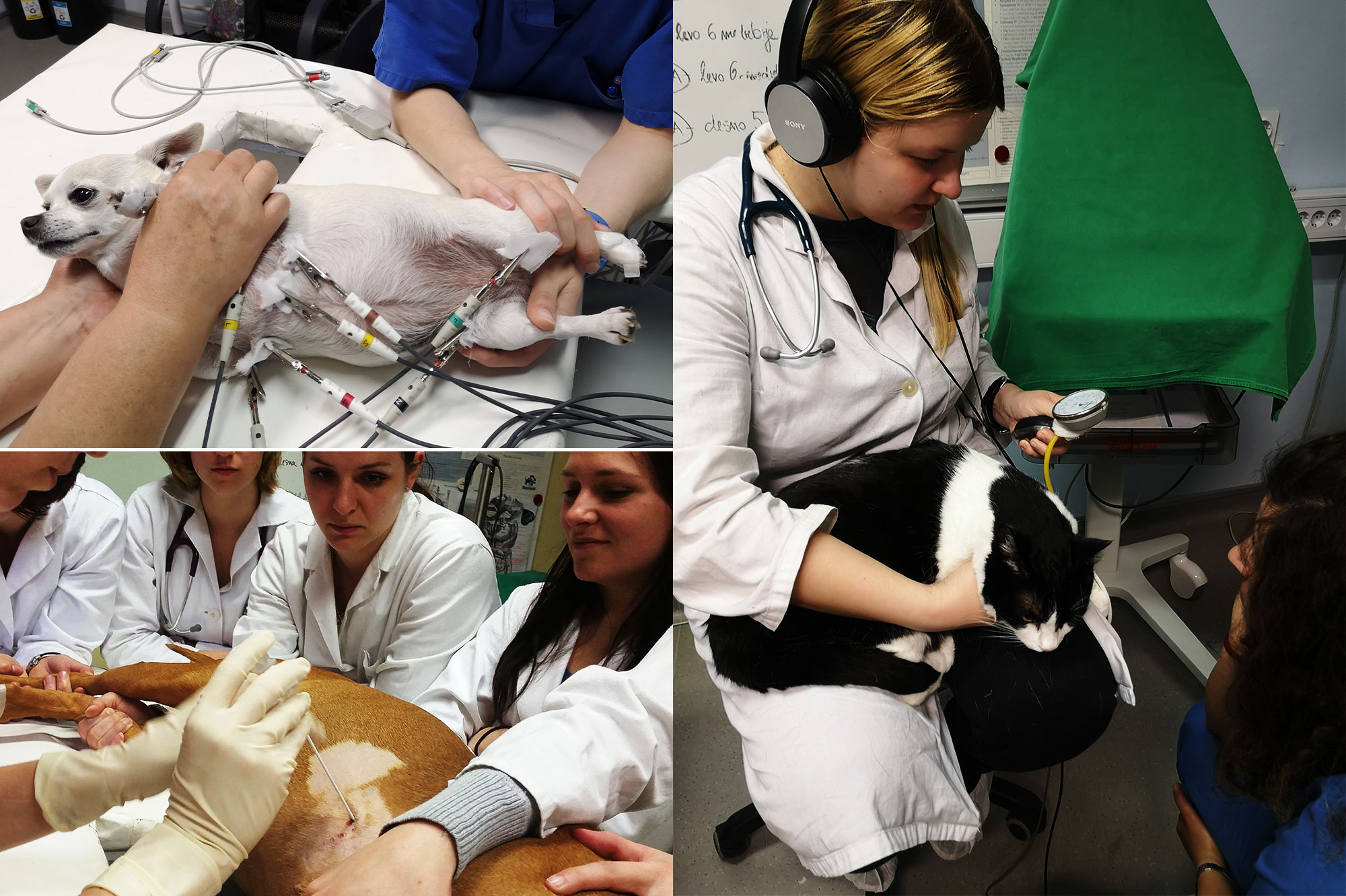 The course includes 10 hours of lectures, which are a supplement to the programme 'Medicine of Cats and Dogs', a compulsory course in year 5, and includes chapters that are limited or not covered in the basic course, including:
Systemic diseases that can affect, and how they affect, cardiovascular function (vascular diseases, endocrine diseases, electrolyte abnormalities, gastrointestinal and renal and haematological diseases)
Therapeutic options for individual heart diseases
Clinical cases – an overview of the most common and interesting cases - interactive lectures
Differential diagnostic respiratory problems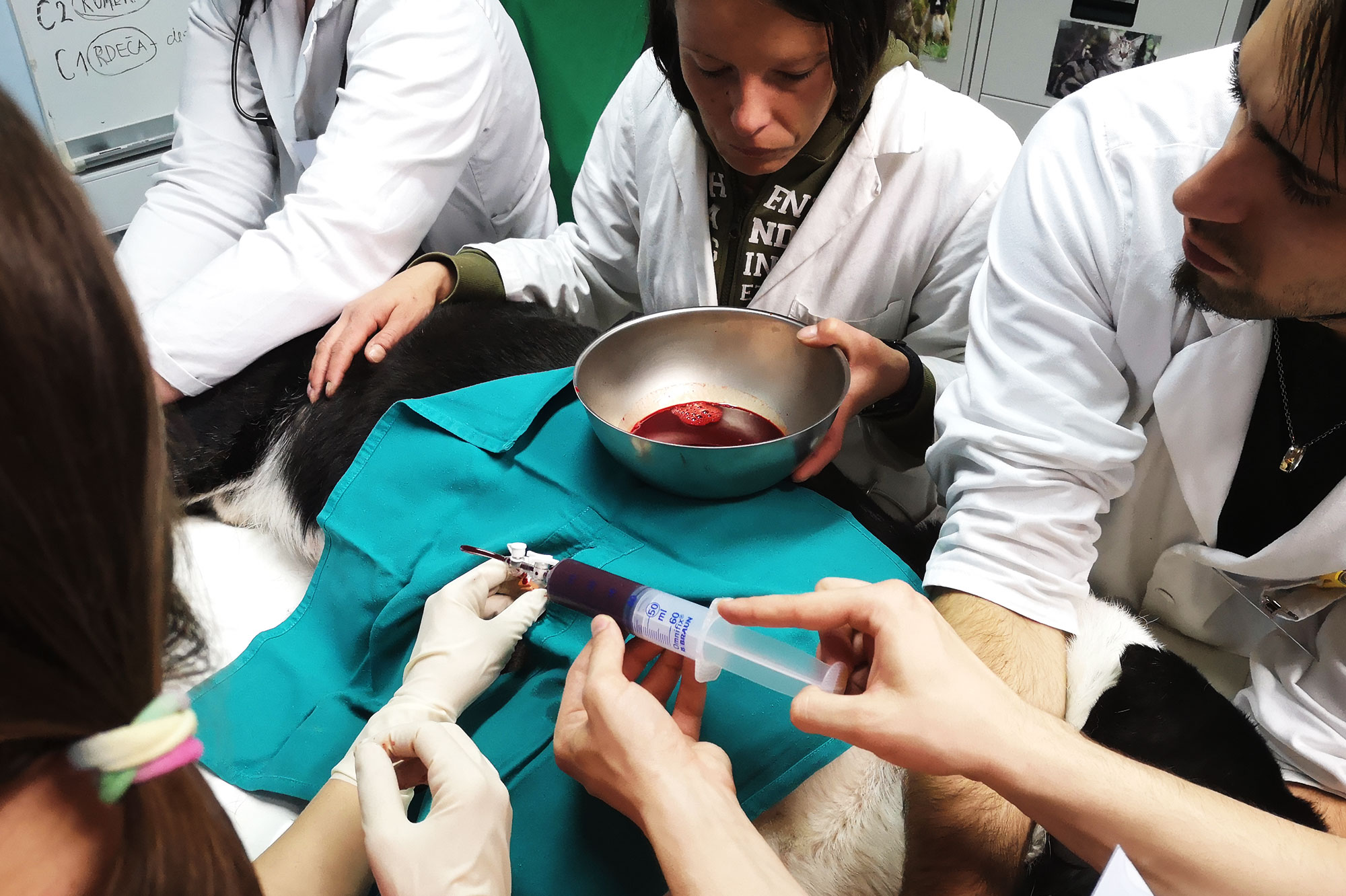 In 20 hours of practice, the emphasis is on:
Independent treatment of patients (anamnesis, clinical examinations, electrocardiograms, interpreting X-rays and understanding of ultrasound examinations)
Work taking place on clinical patients
In the elective course 'Cardiology of Cats and Dogs' student will learn how to:
independently manage anamneses and perform detailed clinical examinations
recognise and understand different heart tones and noises
record and interpret electrocardiograms
interpret thoracic radiographs, which are an eternal diagnostic challenge
understand an ultrasound examination of the heart
puncture the chest, abdomen, pericardium when indicated
understand individual heart diseases and their pathophysiology
Do join us, we will have fun to the rhythm of the heart and learn a lot!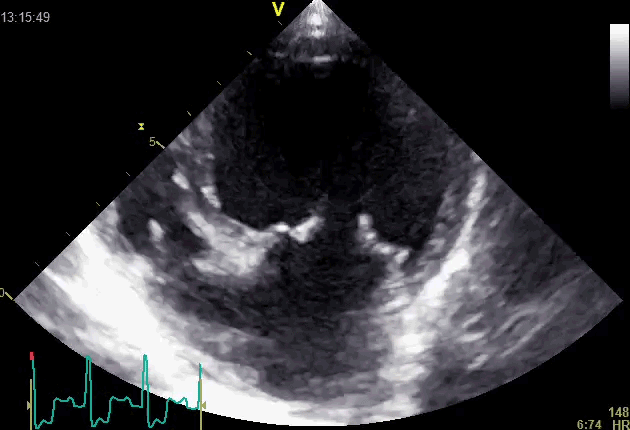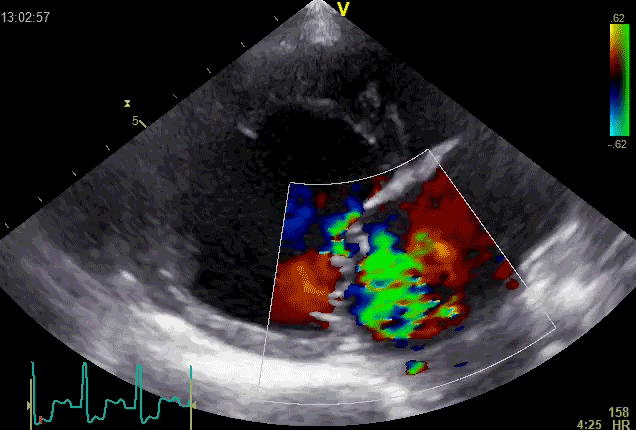 In this subject, students deepen their knowledge of the basics of cat and dog nutrition, which they acquired in the subjects 'Physiology of Animal Nutrition' and 'Hygiene and Pathology of Animal Nutrition'.
Lectures (10 hours)
Answers to the most common questions from owners about proper nutrition for cats and dogs
Evaluation of examples of advertising food for cats and dogs from practice (what is, and isn't in accordance with the law)
In depth discussions on the most common diets for dogs
Exercises (5 hours of seminar tasks and 10 hours of laboratory work):
meals are calculated
various clinical cases are discussed
independent work - seminars in groups
independent work in the laboratory
Field exercise
Visiting guests from practice or visits to a small pet store.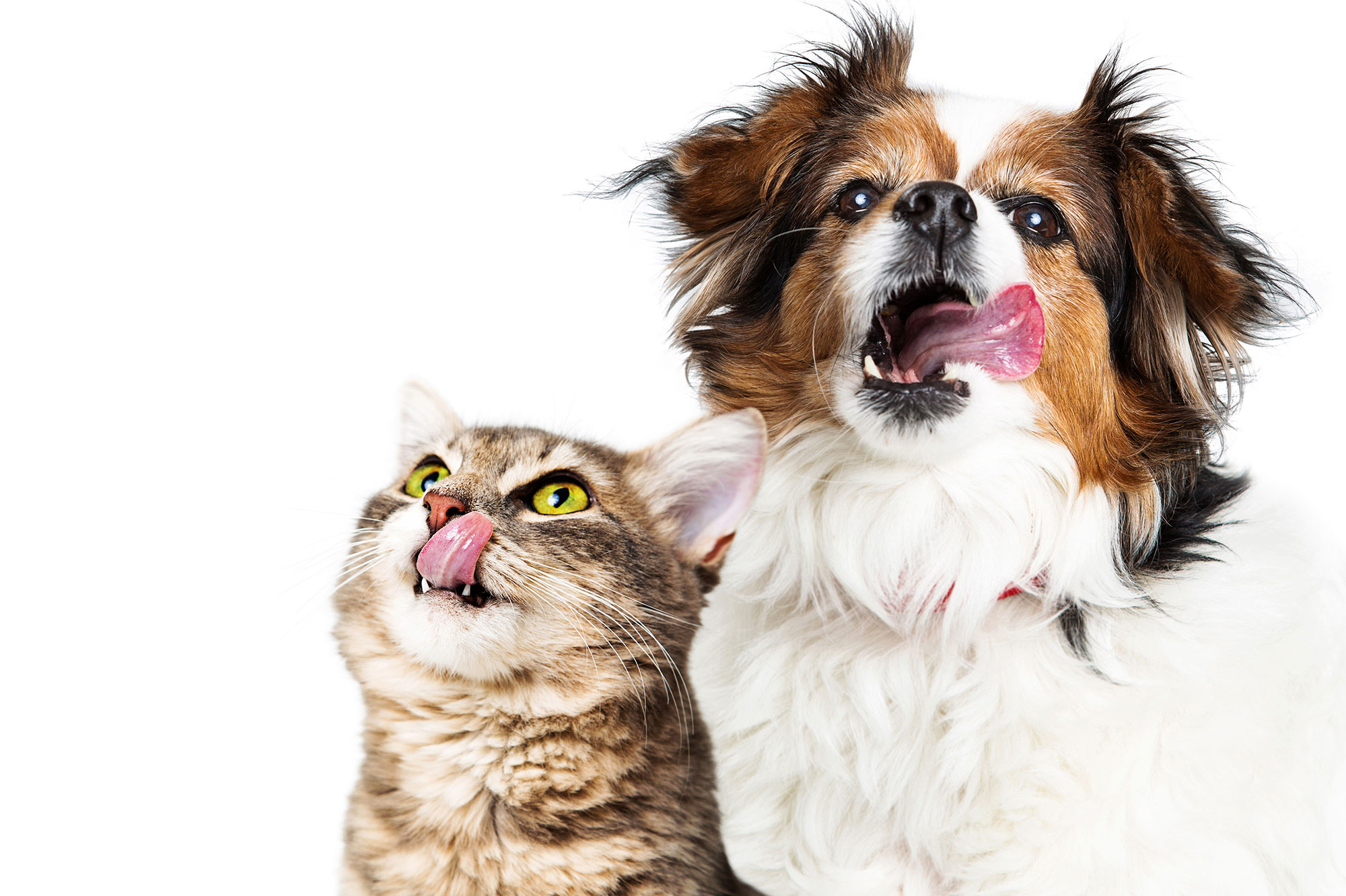 Supervisor: Modest Vengušt
Familiarisation with the physiological adaptations of the body to physical strain in sports. Learning about the most common medical problems arising from specific sports activities and the consequences of the use of banned substances in sports.
What is covered
Integrative physiology of sport - basic adaptation to physical strain in sports, and expression of physical abilities are not tied to a particular species
Training physiology
Factors that limit the positive effect of training
Clinical fitness tests - how to recognise a winner
How to clinically identify, prevent and/or treat overtraining
And even more… in the form of:
interactive learning
problem-oriented approach
relaxed communications
independent work on horses/patients
More information is available in the e-classroom.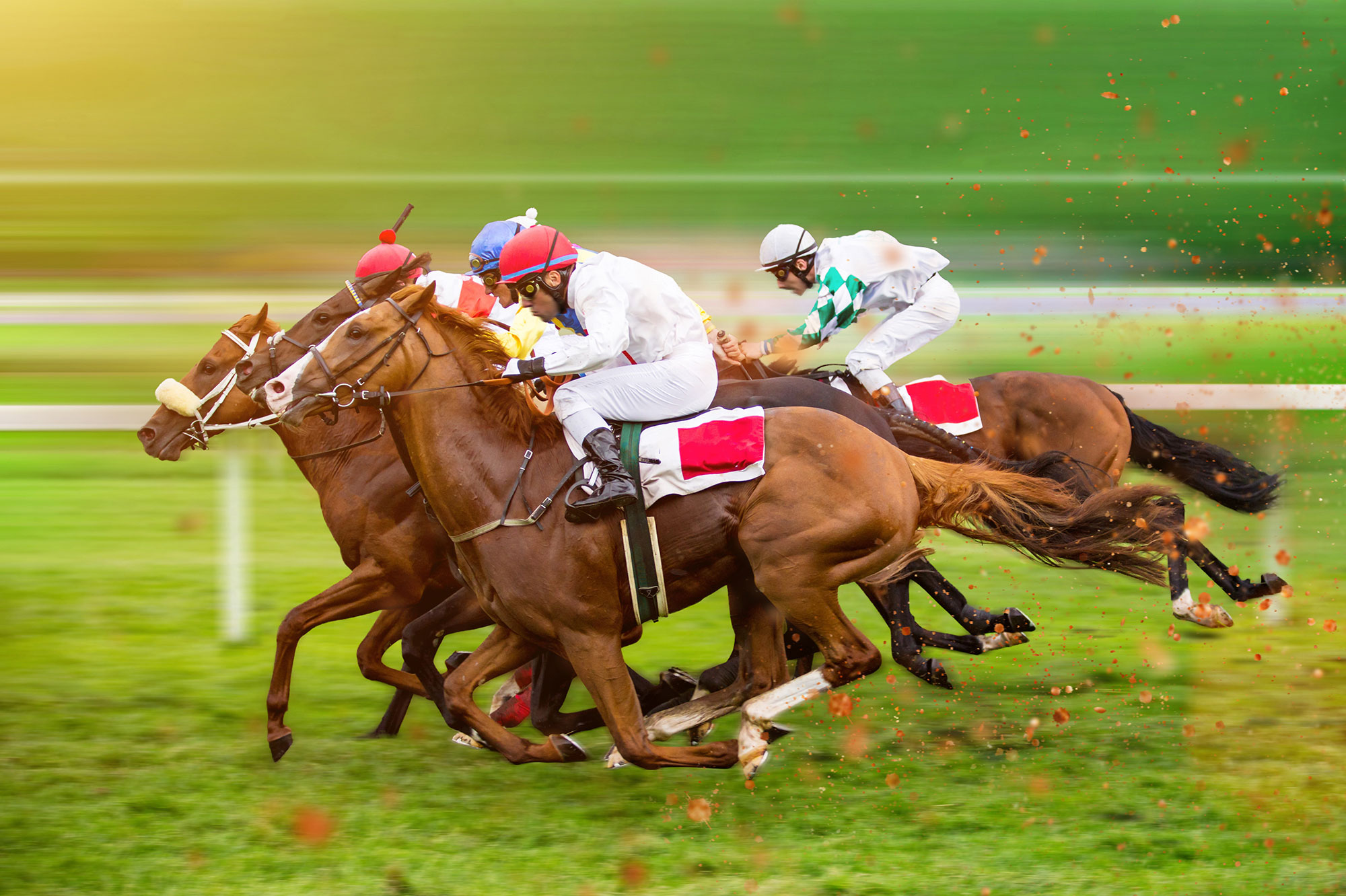 Supervisor: Gorazd Vengušt
Why breed game?
There are many answers to this question from breeders and experts, however, in this subject only those that stand out the most are covered. The first is income, which is higher in the breeding of game than in that of domestic ruminants. Deer need less food than cattle, cause less damage to pastures, mature sexually faster and are able to reproduce in pens for up to 20 years. As game is very adaptable, it can be bred on a small area and on various types of terrain. Due to the quality of meat, which is rich in protein and lean in fat, the demand for game meat is increasing from year to year.
The first small pen was set up in Slovenia in 1988, which was exclusively engaged in the breeding of fallow deer for meat production and the production of meat products. This was followed by a sharp increase in the number of fallow deer. In the last decade, red deer have also been found in pens as an independent animal species or in combination with fallow deer. Today, there are over 500 pens in Slovenia, in which more than 6,000 animals live, mostly fallow deer and red deer. In addition to the mentioned species, mouflon and wild boar are found in the pens, and there are also pens for breeding field hare, field chickens and common mallards.
The main reason for delving into the study of deer breeding in pens is the increasingly frequent problems accompanying deer breeding in Slovenia, such as poor knowledge of breeding technology, health status, lack of knowledge of dosing and the effect of anaesthetics and measures during or after their use, lack of data on diet and physiological values, and poor knowledge of the welfare of farmed deer. Hence, students of veterinary medicine will acquire this knowledge, as veterinarians may encounter these issues on a daily basis.
The subject covers the following chapters:
familiarisation with wild species suitable for breeding in enclosed areas
use of technology for breeding wild animals in enclosed areas
health issues, reproduction, nutrition, methods of putting to sleep, transport of wild animals in enclosed areas
stunning, use of stunning agents and handling of stunned animals
models of disease eradication in animals in enclosures
legislation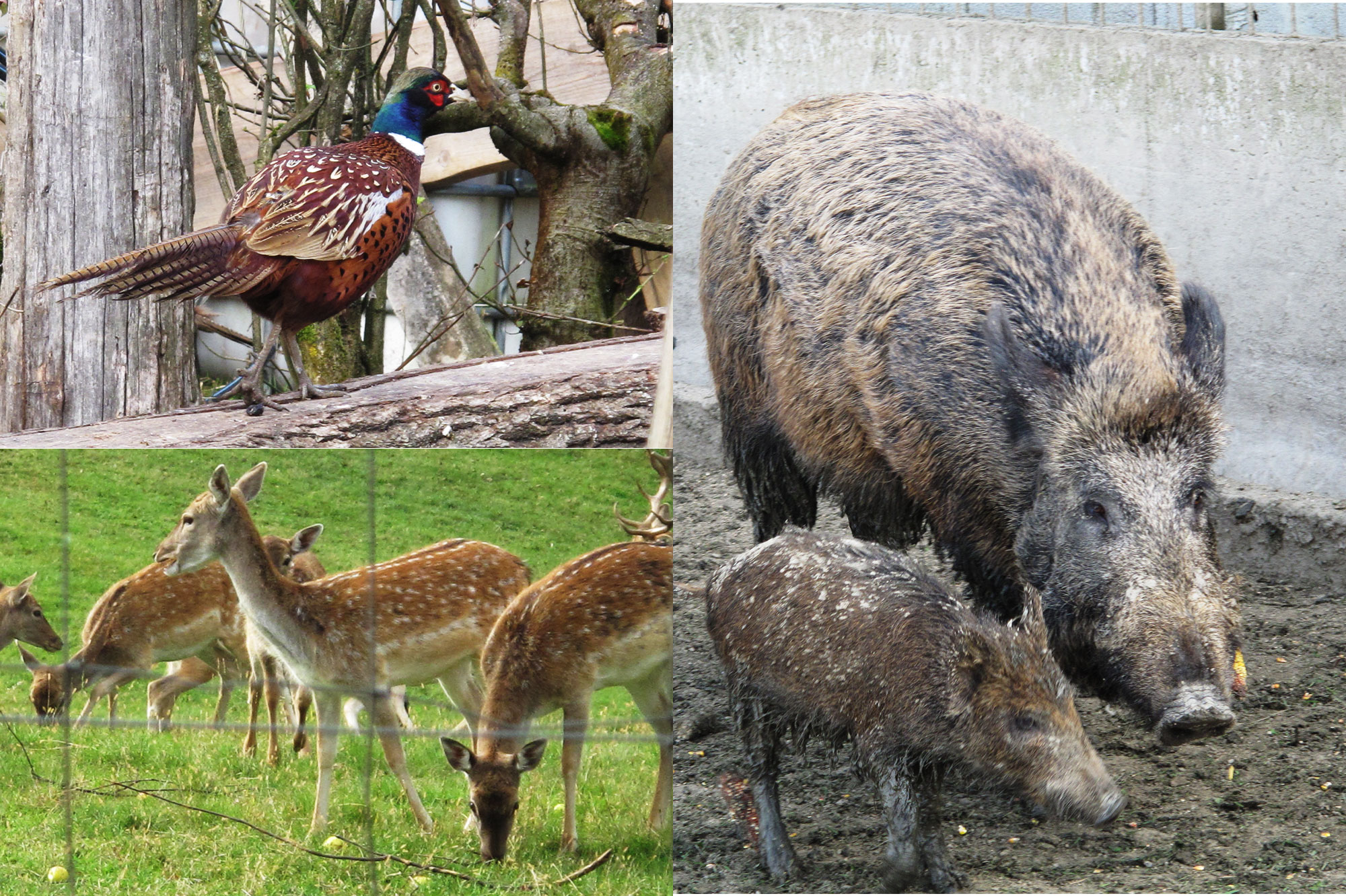 Students will gain knowledge about the breeding of wild animals in enclosed areas, stunning animals, and specific current issues in farmed game. Students will be able to apply all the acquired knowledge in practice and will expand their insight into a slightly more specialised field, which includes game breeding in enclosed areas. Based on theoretical principles and acquired practical knowledge, students will be able to critically study and define such problems in practice and also resolve them successfully.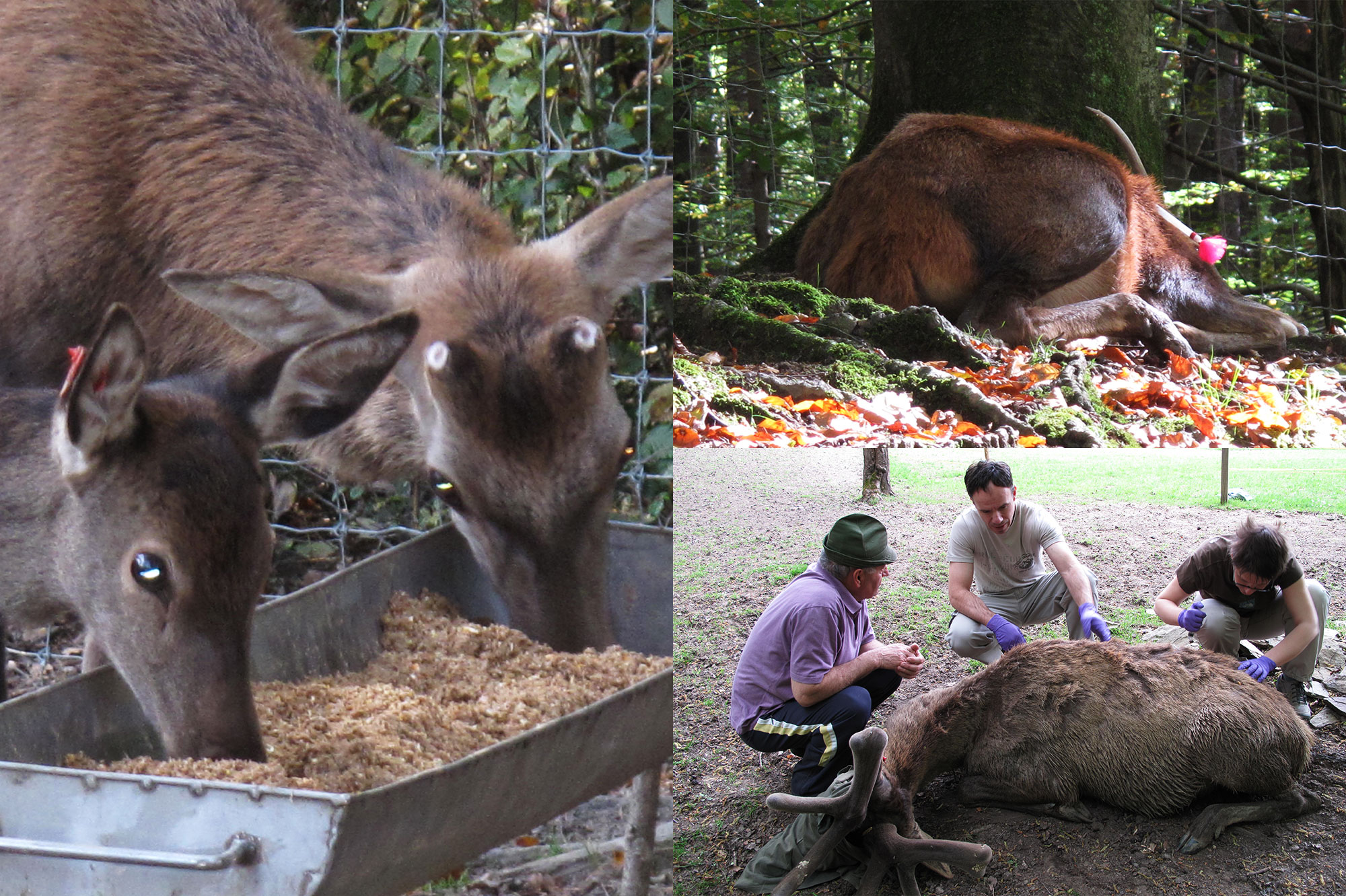 As part of all-day exercises, students visit three pens with deer and a pen with wild pigs and will take a special look at the breeding of pheasants. They will learn about bred animals, breeding technology, nutrition, methods of stunning and the health issues that accompany breeding.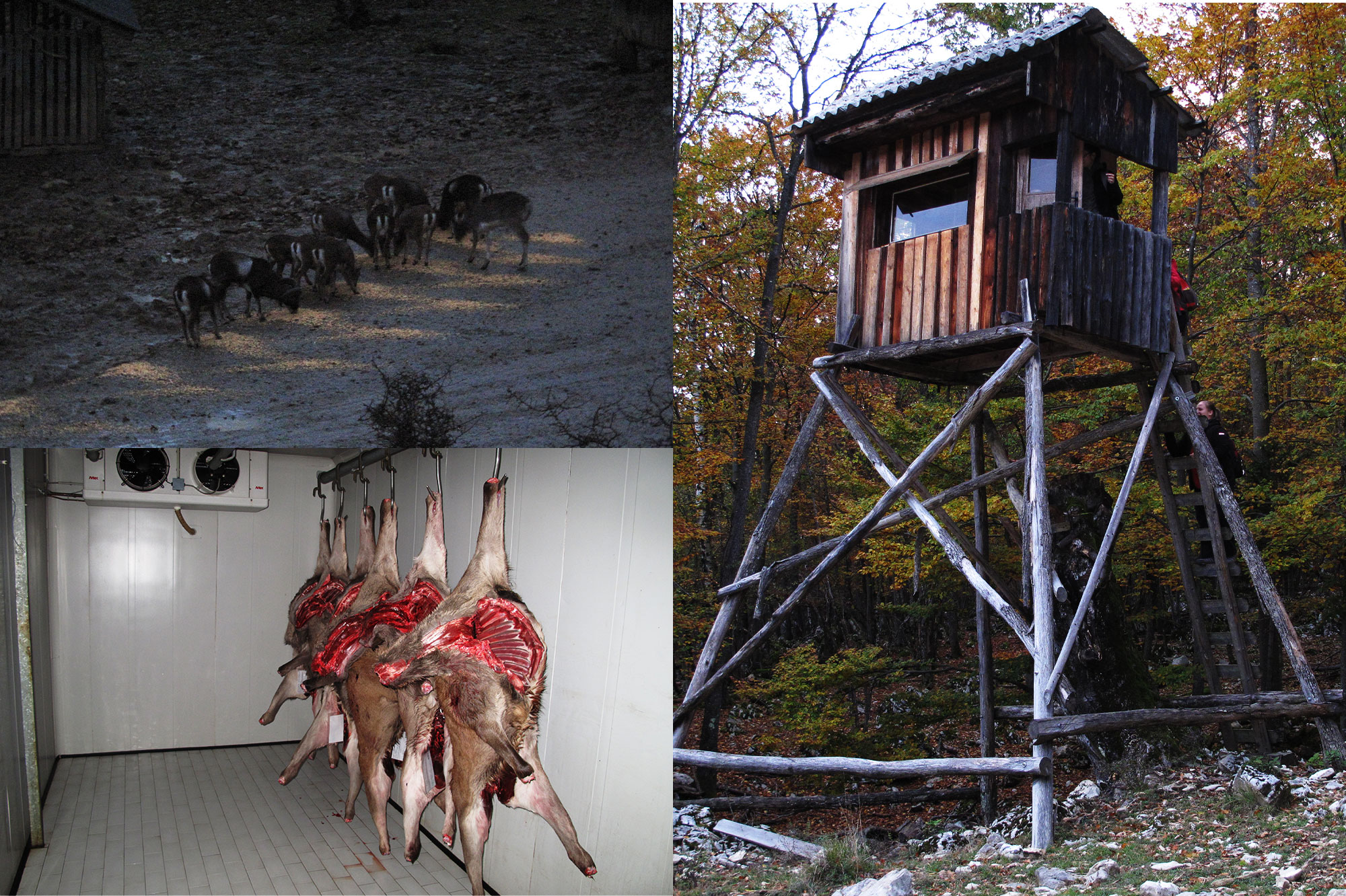 As part of field exercises, students will take a look at and get to know the operation (breeding, shooting, carcass procedures, operation of a hunting pen) of hunting grounds, with a special emphasis on bears. In the evening, students have an opportunity to spot game approaching the feeding ground from the hunting pen.
Conclusion: oral exam (the final grade is single).
Supervisor: Mitja Gombač
More detailed familiarisation with some specific legal acts in the field of expertise and civil procedures, preparation of a comprehensive expert opinion on the basis of cases from case law in accordance with the rules for the preparation of expert opinions.
Subject description
The subject Veterinary Proficiency acquaints students with the manner and procedures of processing more complex cases from case law, which arise due to damage caused to animals, people, things and other animals. It also acquaints them with case law cases dealing with criminal offences or misdemeanours that veterinarians may commit in their professional work, and human responsibility for torturing animals. It also deals with those court cases in which veterinarians participate as an expert, expert witness, or witness.
The knowledge acquired in the field of expertise will be used by graduates of veterinary medicine in their daily work in making decisions on personal professional responsibility or liability to customers for damage in all areas of veterinary medicine (small and large practice, veterinary public health, animal protection, food and feed safety, etc.).
Conditions for enrolment
regular enrolment in year six with an average grade of at least eight (8)
10 students can enrol (if there are more candidates, the course lecturer will conduct an individual interview with each candidate)
Student responsibilities
Independent examination of a case law case, preparation of a comprehensive written expert opinion in accordance with the rules for the preparation of an expert report under the mentorship of participating pedagogues and public presentation and defence of the studied case.
The subject Veterinary Expertise takes place in the form of seminars, with introductory instructions from the course lecturer.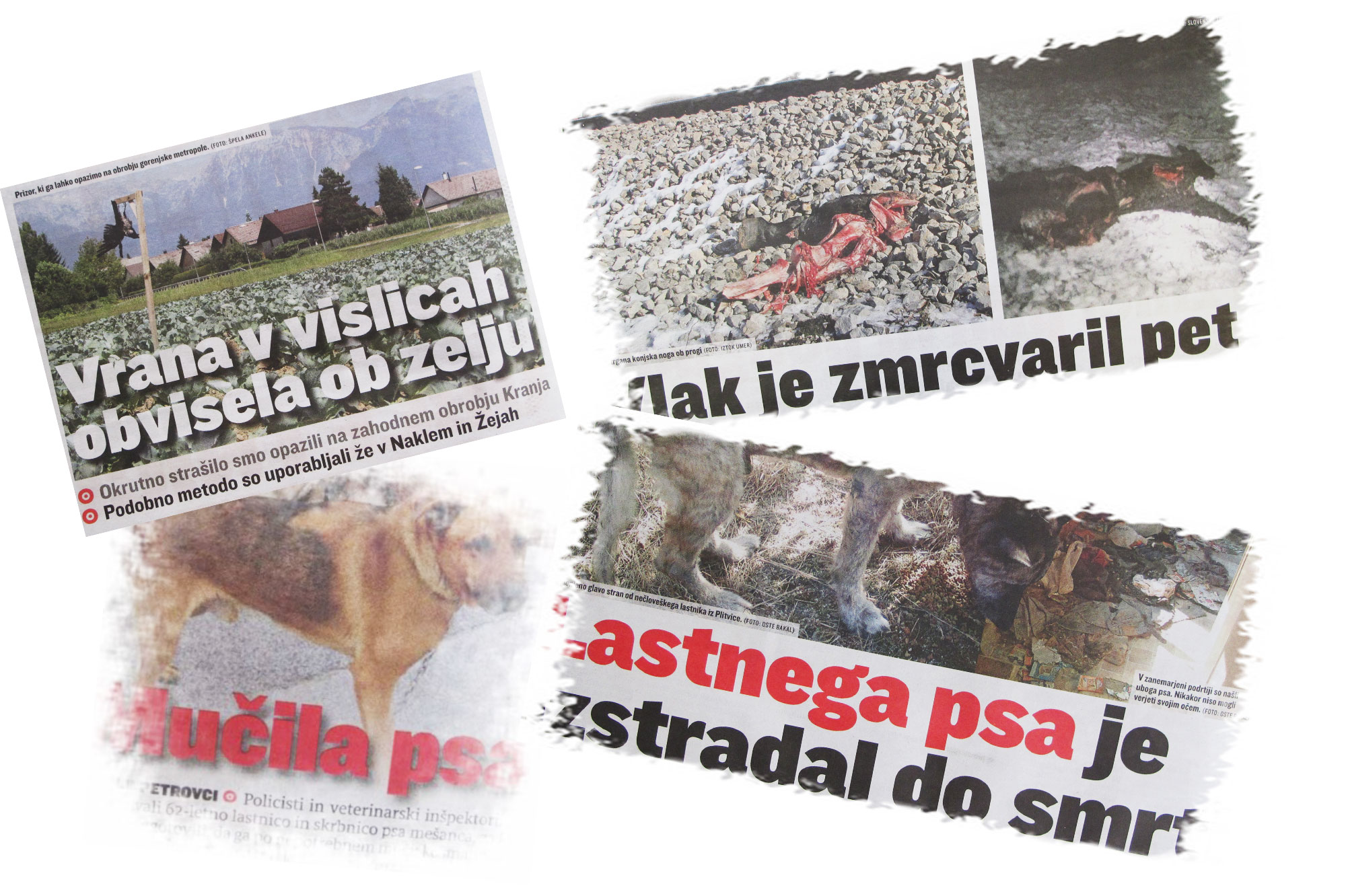 In addition to freshwater and marine fish, this subject also deals with shellfish and crustaceans. Students learn the basics of fish, shellfish and crustacean farming technology in terms of disease prevention. The conservation importance of aquatic animals is also emphasised.
 
Aquaculture is the breeding of fish, shellfish, crustaceans and seaweed. In China, fish were already being farmed 2,000 years BC, and today fish, shellfish and crustacean farming is the fastest growing livestock industry, as natural resources are dwindling and human consumption needs are increasing. Progress requires a scientific approach from biologists, agronomists, chemists, environmentalists and, last but not least, veterinarians.
Challenges for veterinarians
Diseases and diagnostics
Disease prevention
Study of fish immunology
Selection of resistant fish species
Diet and nutritional supplements to increase immunity
Treatment that is harmless to humans and the environment
Improving biological safety in breeding
Study of new, nature-friendly breeding technologies 
Content of the elective subject
Environmental importance of fish, shellfish and crustaceans
Modern technologies for breeding fish and shellfish for food
Anatomy and physiology of shellfish and crustaceans
Diseases and modern diagnostic methods
Impact of breeding on the environment
The use of fish in science
Fish immunology
Disease prevention
Fish as pets
The role of veterinarians in the healthcare of fish, crustaceans and shellfish
Disease detection and treatment
Eradication of disease
Disease prevention - biosafety plan
Advice and education
Research work
Individual treatment of aquarium fish and fish in garden ponds
Slovenia
Fish are bred for the settlement of watercourses and for human consumption
Rainbow trout and/or other trout species are bred in about 200 fish farms
Carp are bred in polyculture in about 100 fish farms
In the Slovenian sea, mussels and saltwater clams are bred at three locations, while sea bass and sea bream are bred in one fish farm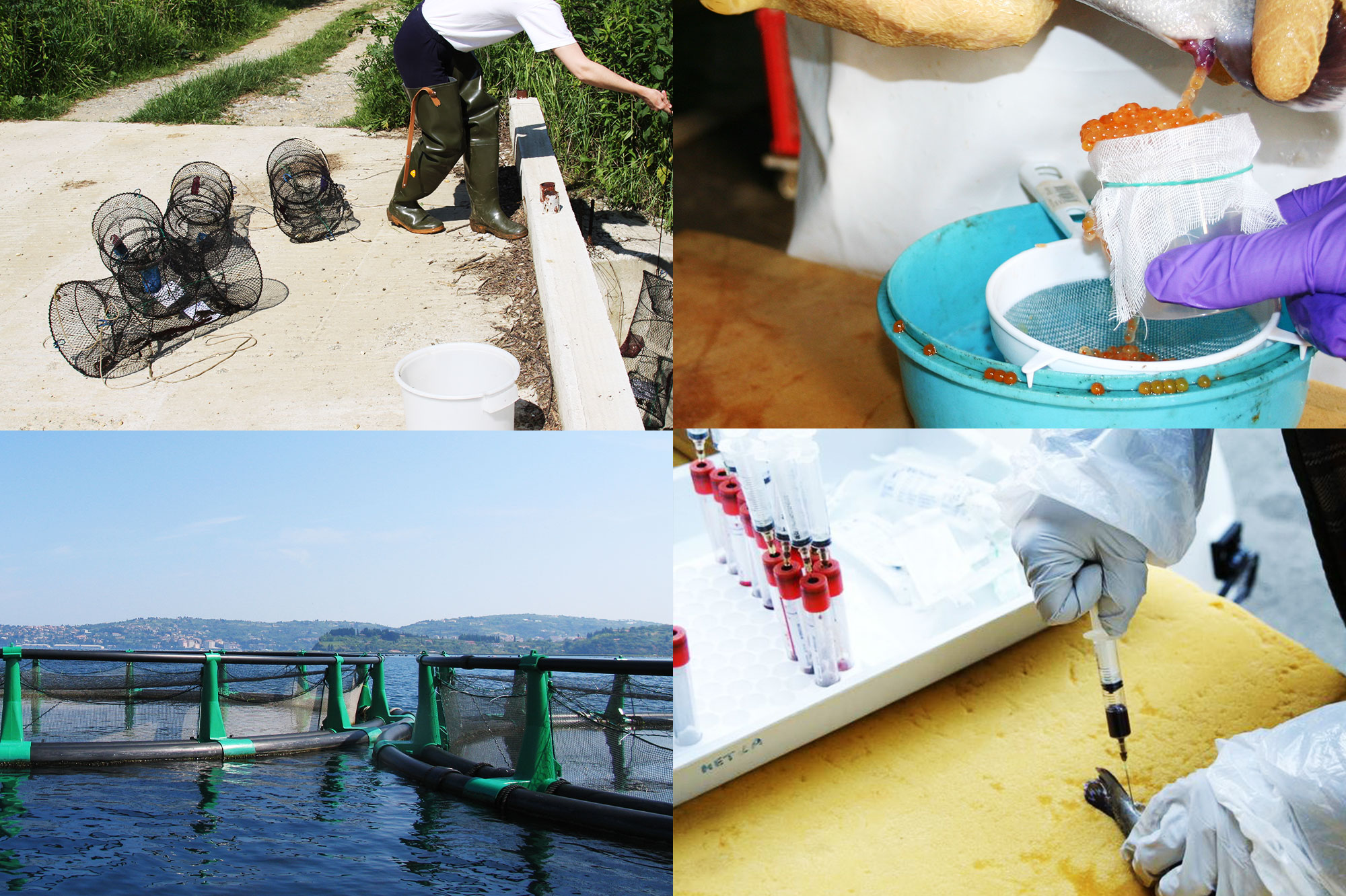 Students learn about beekeeping technology in connection with the risks of disease and beekeeping hygiene to prevent such risk. The defence mechanisms of bee families and the causes of disturbed and destroyed defences and the occurrence of diseases are discussed, especially in connection with beekeeping technology in modern agriculture; methods of treatment of bee families with an emphasis on the use of biological or apitechnical methods; new beekeeping technologies in terms of preventing and controlling bee family diseases and protecting bee products, the environment and beekeepers; conditions for continuing the beekeeping tradition and the opportunities provided by organic beekeeping.
Beekeeping has a long tradition in Slovenia, from which world-famous beekeeping theorists and practitioners derive. The indigenous breed of bee (Apis mellifera carnica) called the Carniolan grey bee was created on Slovenian territory, and the country is also proud of its culture of painting beehive frontal panels and its typical beehives.
The importance of beekeeping today
Pollination
Obtaining bee products
Production of bee colonies and queens
Beekeeping tourism
Apitherapy
Preservation of cultural heritage
Slovenia
about 160,000 families of bees
about 11,000 beekeepers
about 14,000 beehives
one of the countries that is most densely populated with bees
the number of beekeepers is still growing
The role of veterinarians in the healthcare of bees
Studying the biology of bee families
Study of diseases and pests
Study of bee poisoning
Modern diagnostic methods
Supply of medicines and treatment of bee families
Bee nutrition
Education of beekeepers
Research work
Content of elective subject
Bee families and their significance
Modern beekeeping technologies with an emphasis on breeding of queens
Diseases, pests and poisoning of bees
Risk factors for the spread and development of diseases and pests
Impact of climate change and agricultural landscape change
The role of veterinarians in professional and amateur beekeeping
Exercises
In the laboratory and in the apiary
Inspection of queen breeding and bee production
Working with a veterinarian in the field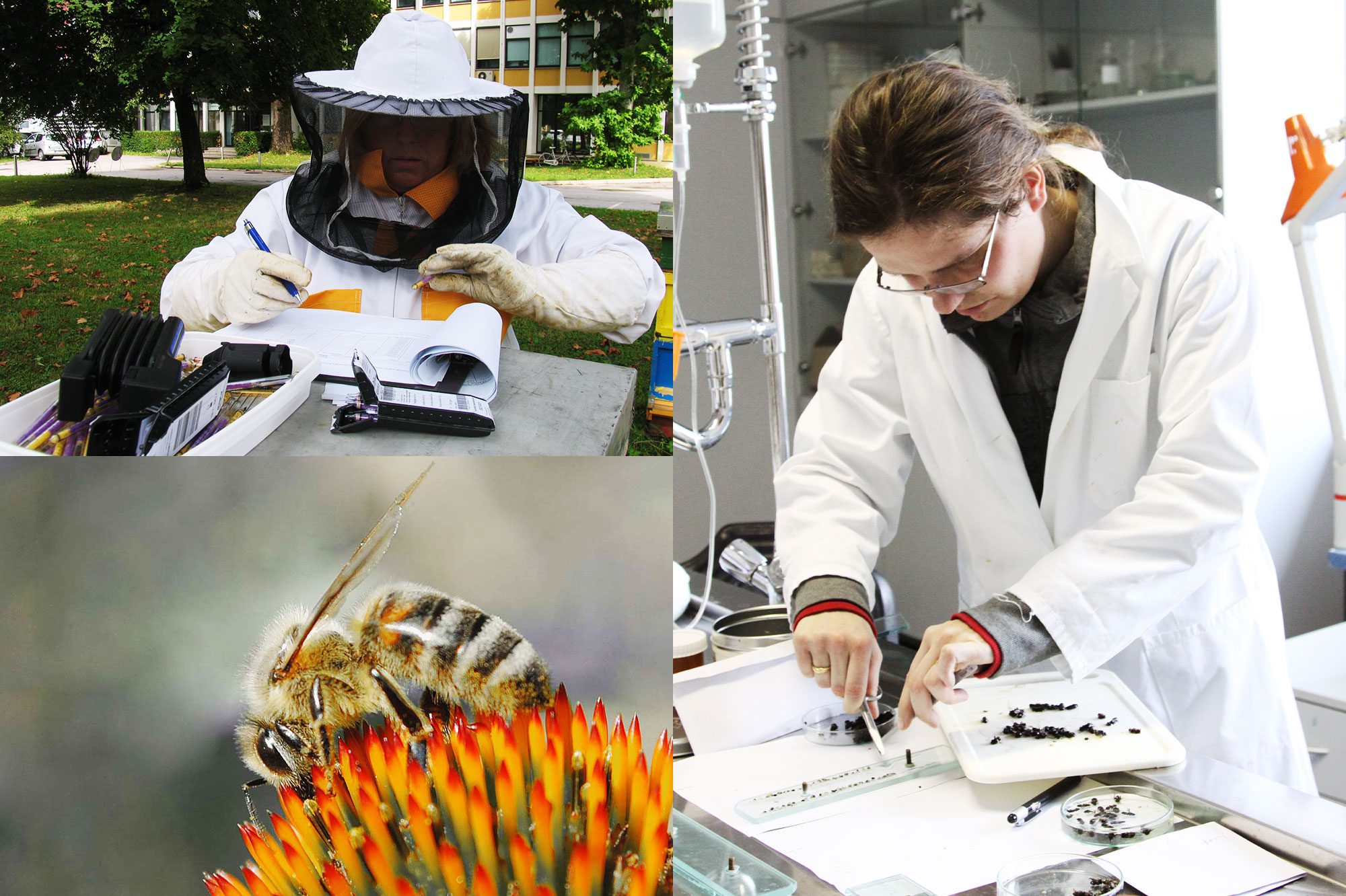 Supervisor: Marina Štukelj
Students acquire theoretical (block lectures twice for 2 school hours), and especially practical knowledge in the field of pig healthcare. The course is based on practical work on a large pig farm, where students visit the farm in small groups every day for a week.
At the pig farm, students are familiarised with the weekly rhythm of tasks such as:
production technology
reproduction
breeding tasks
healthcare
biosecurity
The knowledge acquired will be of great help to students in their further professional work.
During their time at the pig farm, students keep a personal diary of veterinary procedures. At the end of the period, they select a clinical case in which they had been involved and describe the problem in a little more detail.
Students who successfully pass the written exam are awarded a final grade.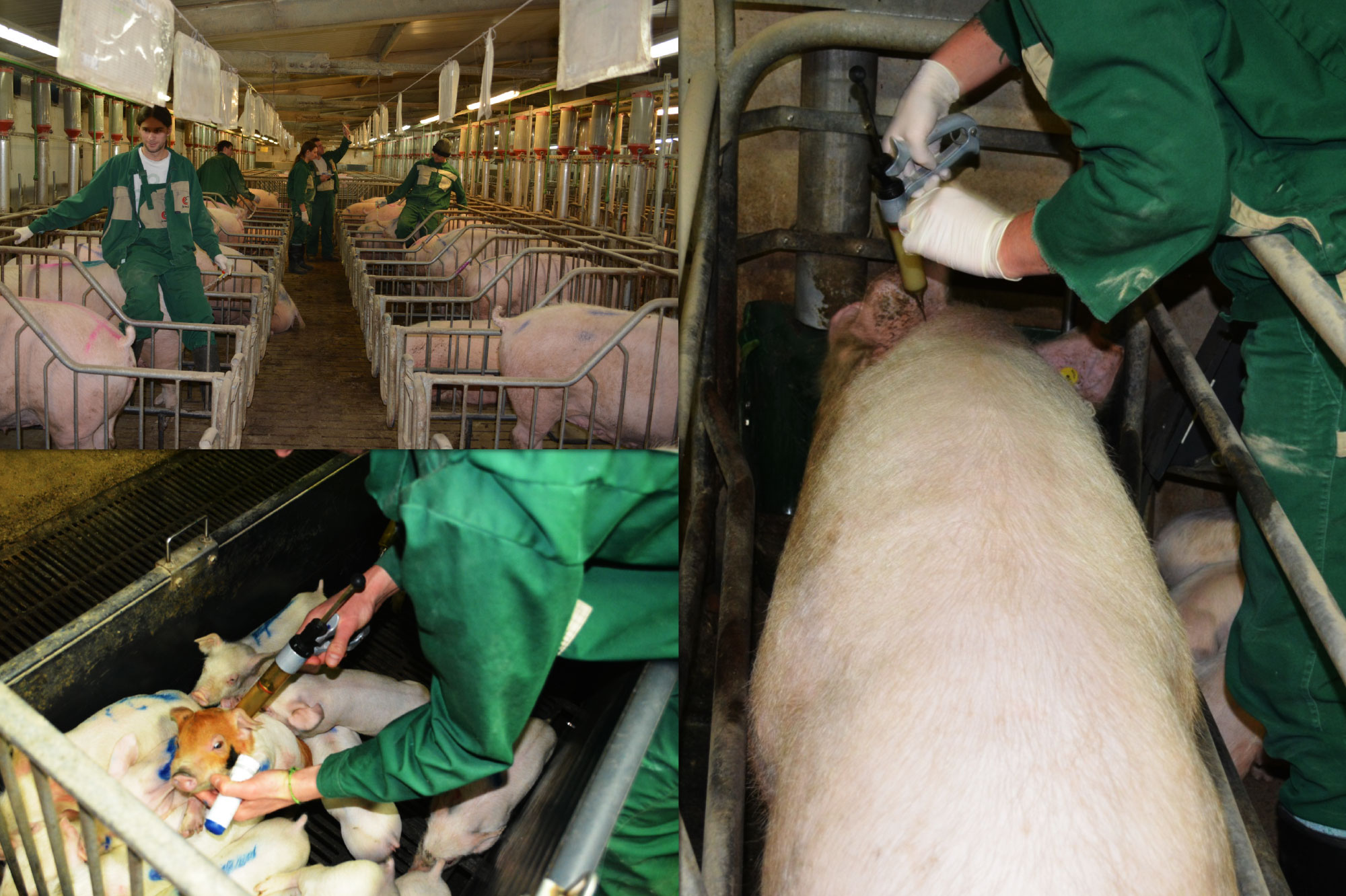 Nosilec: Darja Pavlin
This subject covers the enhancement of students' basic knowledge of emergency medicine for cats and dogs, which students can use to work in clinical practice to address more serious emergencies. Special emphasis is placed on gaining practical experience through various diagnostic and therapeutic procedures in emergency situations and the principles of care and advanced monitoring of critically ill animals.
Have you ever wondered what you would do if you were woken up by your phone ringing in the middle of the night?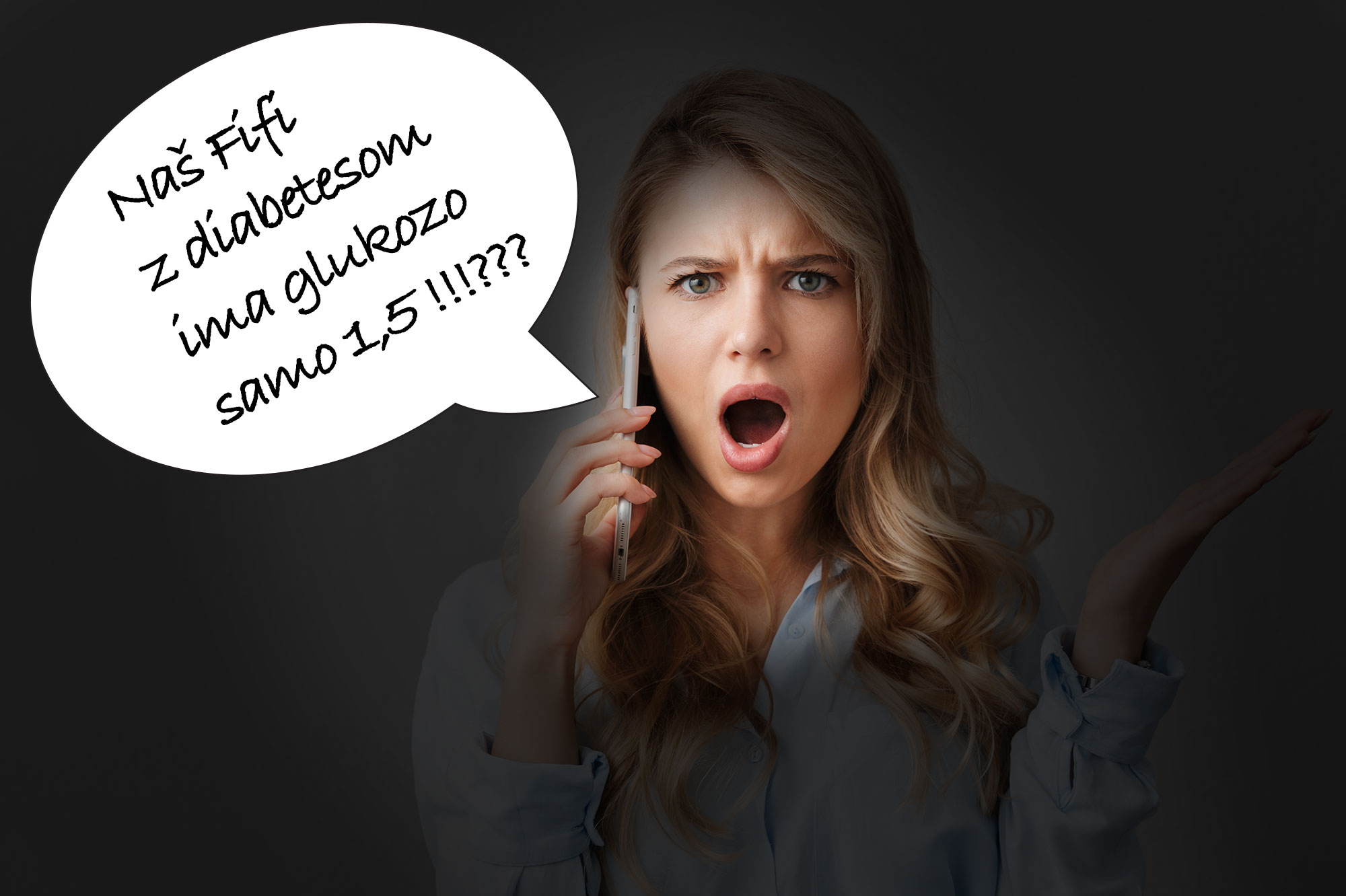 In the elective course 'Emergency Cat and Dog Medicine' students learn the answer to this question, and much more, not necessarily limited to:
how to perform emergency triage without becoming an embarassment
how to deal with a patient in shock without yourself, or your client, being traumatised
what to do when a patient can't breathe and you can't remember the lyrics to 'Breathe Breathe With Me'
how to react if your patient has been hit on the head 
can there really be too much chocolate? (What a question! NEVER! Or…)
how to deal with a patient's acidic blood without a sour smile
what to do when a Pekingese has taken the instruction too literally to 'throw a tug' at a neighbour's dog
how to help if a heart is no longer beating as it should as the loving pet owner is still waiting nervously in the waiting room
how to tell an owner, and to survive the experience, that the cost of Rex's treatment will reach the price of a used BMW
and, last but not least: how on earth is a landline phone used!
You are cordially invited! We take care of the patients, while you will have to take care of the coffee and Red Bull yourself.
This subject provides in-depth communication knowledge and skills for successful everyday communication in veterinary practice, especially for dealing with more complex communication situations and for professional communication in various contexts. Students learn about integrated clinical models of veterinary consultation in a practical manner.

In recent years, an increasing amount of research has shown the exceptional importance of mastering communication skills in veterinary practice, which are often placed alongside clinical skills. During this course, students have the opportunity to learn the key features of effective and satisfactory communication with clients (e.g. establishing contact, active listening, empathic attitude, etc.), including optimal structuring of veterinary consultations and insight into the communication aspect of specific situations that are a special challenge (euthanasia, emergency, reporting their own mistakes, resolving conflict situations, etc.). Communication characteristics in the context of social trends are considered, such as changing the relationship between humans and animals and changing the nature of the doctor/veterinarian-client relationship. A large part of the course is of a practical, experiential nature and includes work in pairs and small groups, role plays, viewing recordings of veterinary consultations, presentations of professional papers on the subject of the course, etc. The course requires ongoing active participation, in addition, the assessment consists of a final exam or research paper (optional/of students' choice).
Supervisor: Jaka Žgajnar, Emil Erjavec
Within this subject, students learn the role and importance of entrepreneurship, prepare tools for business analysis and learn to find answers to the challenges of running their own company in the veterinary business. The course builds on students' basic knowledge in the field of financial statements and analysis of the performance of veterinary companies. It covers basic modelling approaches and the preparation of models in the form of spreadsheets to support business decision-making and new product development. Through project work in the form of creating a business plan, students are familiarised with business planning, which includes basic knowledge in the field of new product development, marketing, management, financial and business analysis.
Supervisor: Modest Vengušt, Irena Zdovc
Excessive and misuse of antibiotics leads to the development of various forms of secondary resistance.
Occurrence of multidrug-resistant strains of bacteria (MRSA, MRSP, ESBL…)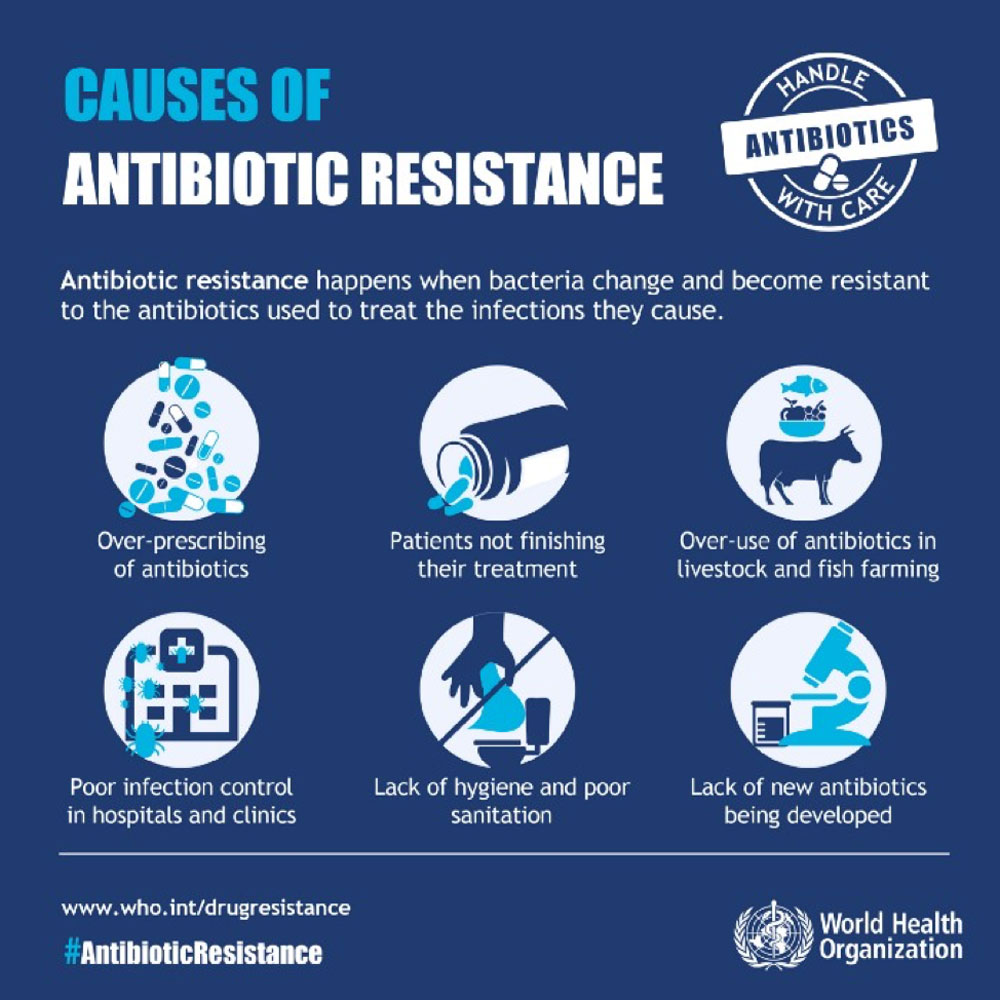 Subject aims
Reasonable, independent and professional treatment of infectious diseases
Protection of human and animal health
Environment protection
Understanding the factors influencing the choice of antimicrobial drugs
Understanding the difference between the in-vitro and in-vivo action of antimicrobial drugs
Relevant analysis and evaluation of the success of antimicrobial treatment
Familiarisation with the specifics of treatment of different types of animals, breeds, age groups and populations
Understanding the origin and consequences of antimicrobial resistance
Relevant knowledge of pharmacogenetics
Using a problem-oriented approach:
a clinician, microbiologist and pharmacologist will select interesting cases of bacterial diseases from general veterinary and specialist veterinary practice and students will learn about them.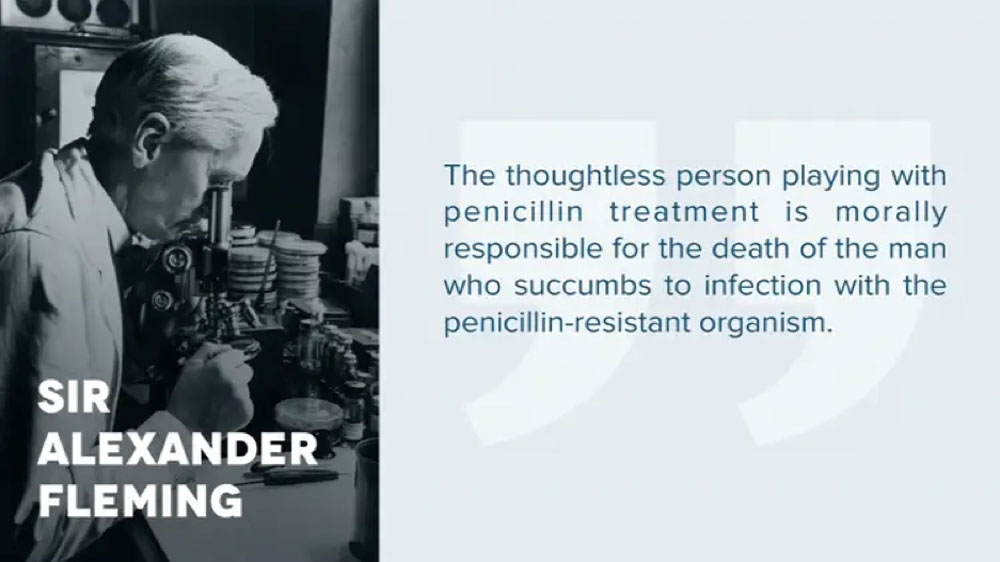 More information is available in the e-classroom.
The veterinarian on duty
Emergency veterinary assistance for dogs and cats and a telephone number of constant readiness.
Library
A wide selection of domestic and foreign professional literature in the field of veterinary medicine and other sciences.
News list
Subscribe to our service announcements and helpful tips.
Important Numbers
Registration number, Activity code, Bank Account, Tax code.
NVI On-Call Service
List of staff on standby for purposes of control.
Location
Gerbičeva 60
SI-1000 Ljubljana
Slovenija
Sample Reception
Samples are received at several locations throughout Slovenia. See where.