Transmission of SARS-CoV-2 from Human to Domestic Ferret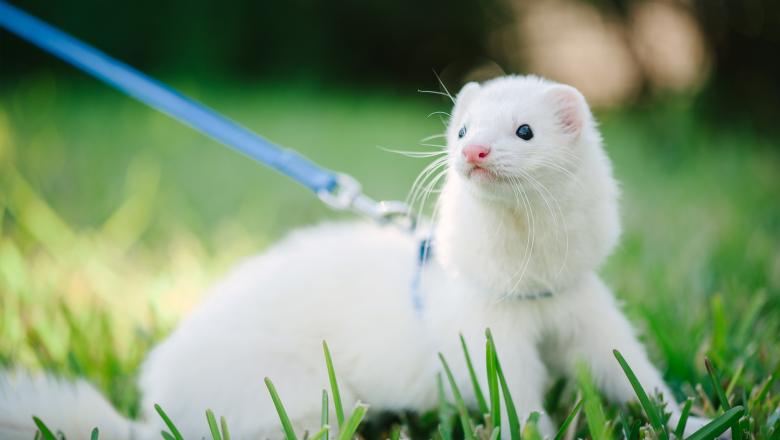 In the article we report a case of natural infection with severe acute respiratory syndrome coronavirus 2 transmitted from an owner to a pet ferret in the same household in Slovenia.
The ferret developed a severe gastroenteritis and pneumonia. The ferret needed aggressive fluid therapy and supportive care with antibiotics, antacids, antiemetics and parenteral dexamethasone. The ferret responded to the therapy promptly and recovered fully.
The SARS-CoV-2 infection in the ferret was confirmed using molecular methods and on a basis of seroconversion and development of neutralizing antibodies using serological tests. The whole genome sequencing of the virus detected in the owner and ferret revealed only a 2-nt difference, and neither of those was present in the spike protein gene.
We conclude that pet ferrets are susceptible to natural SARS-CoV-2 infection and can develop severe, life-threatening disease. Therefore, it is very important to detect the infection in pets early to prevent spread to other animals or humans.
Authors: Jožko Račnik, Ana Kočevar, Brigita Slavec, Miša Korva, Katarina Resman Rus, Samo Zakotnik, Tomaž Mark Zorec, Mario Poljak, Milan Matko, Olga Zorman Rojs in Tatjana Avšič Županc.
This work was performed in collaboration with Toplica Veterinary Hospital, Topolšica & Institute for Microbiology and Immunology, Faculty of Veterinary Medicine, Ljubljana & Institute for Poultry, Birds, Small Mammals and Reptiles, Faculty of Veterinary medicine, Ljubljana.
The article entitled »Transmission of SARS-CoV-2 from Human to Domestic Ferret« was published in September 2021 issue of Emerging Infectious Diseases (IF for year 2020 = 6.883)

The veterinarian on duty
Emergency veterinary assistance for dogs and cats and a telephone number of constant readiness.
NVI On-Call Service
List of staff on standby for purposes of control.
Sample Reception
Samples are received at several locations throughout Slovenia. See where.
Location
Gerbičeva 60
SI-1000 Ljubljana
Slovenija
Library
A wide selection of domestic and foreign professional literature in the field of veterinary medicine and other sciences.
Important Numbers
Registration number, Activity code, Bank Account, Tax code.
News list
Subscribe to our service announcements and helpful tips.