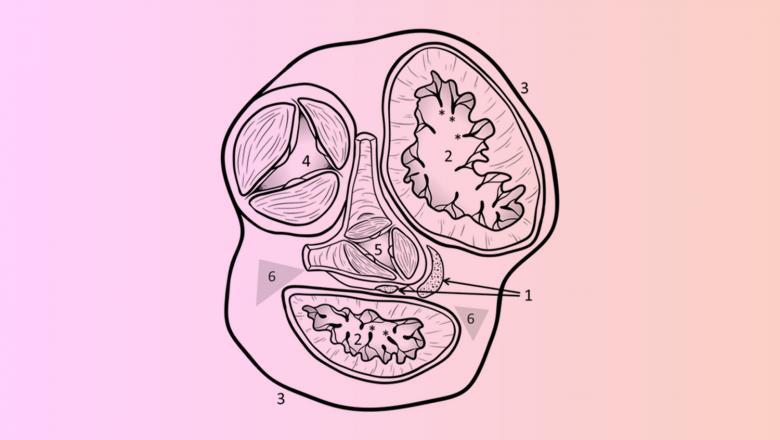 Figure: Relative position of Ossa cordis in the heart, dorsal aspect with of ventriculi cordis with the atria removed (drawing by Samo Krivec, Veterinary faculty, University of Ljubljana; adopted from Habel et al., 2018, Illustrated Nomina Anatomica veterinaria ( 4th ed.).
Anatomy, histology, morphology, development and functions of os cordis: A review
Systematic review regarding heart skeleton published in Anatomia Histologia Embriologia journal, highlights the similarities and variations in ossa cordis prevalence, morphology, histology and anatomical location between differing veterinary species and in humans. It also identifies associated factors such as aging and cardiovascular disease for each species in relation to functional roles and developmental mechanisms that these bone structures may play. The potential functions of os cordis are presented, ranging from aiding cardiac contraction and conduction, providing cardiac structure, and protecting components of the heart, through to counteracting high mechanical stress. Furthermore, this review discusses the evidence and rationale behind the theories regarding the formation and development of ossa cordis in different veterinary species and in people.
The article is also very useful in pedagogical work with students. Samo Krivec, a student at the Veterinary faculty, University in Ljubljana, participated in the article as the author of one of the figures, which was drawn according to the NAV model (Nomina anatomica veterinaria illustrated) exclusively for this article.
Authors: Adam Best, Monika Egerbacher, Sophia Swaine, William Pérez, Aziza Alibhai, Paul Rutland, Valentina Kubale, Samir A.A. El-Gendy, Mohamed, A.M. Alsafy, Kerstin Baiker, Craig J Sturrock, and Catrin Sian Rutland
Original article published in: https://onlinelibrary.wiley.com/doi/10.1111/ahe.12861
The veterinarian on duty
Emergency veterinary assistance for dogs and cats and a telephone number of constant readiness.
Library
A wide selection of domestic and foreign professional literature in the field of veterinary medicine and other sciences.
News list
Subscribe to our service announcements and helpful tips.
Important Numbers
Registration number, Activity code, Bank Account, Tax code.
NVI On-Call Service
List of staff on standby for purposes of control.
Location
Gerbičeva 60
SI-1000 Ljubljana
Slovenija
Sample Reception
Samples are received at several locations throughout Slovenia. See where.