Immunocastration in adult boars
Immunocastration in adult boars as a model for late-onset hypogonadism.
While immunocastration has been studied in male pre-pubertal pigs, data on older, sexually mature animals are limited. To understand the physiological effects of androgen deprivation in the late sexual development phase, we compared mature immunocastrated boars (n = 19) to young male immunocastrated pigs (n = 6) and young entire males (n = 6) as positive and negative controls, respectively. We hypothesized that the timing of gonadotropin-releasing hormone suppression (early or late sexual development phases) influences the extent of reproductive function inhibition, histological structure of testicular tissue, and expression levels of selected genes related to steroid metabolism. Antibody titer, hormonal status, and histomorphometric analysis of testicular tissue were subjected to principal component analysis followed by hierarchical clustering. In mature post-pubertal boars immunocastration resulted in progressive but variable regression of testicular function. We hypothesize that this is due to local activation of the GnRH2-GnRHR2 system in the testes, which is independent of the hypothalamic-pituitary-gonadal axis. Further research is needed to undoubtedly confirm this hypothesis.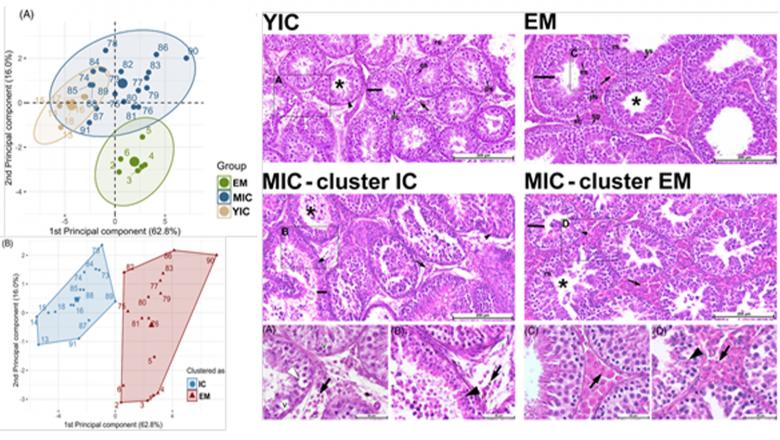 This study contributes significantly to the understanding of the effects of immunocastration in adult boars at physiological and cellular levels, while serving as an animal model for late hypogonadism in translational medicine. We have also identified parameters that could be used to evaluate the success of immunocastration in boars.
Authors: dr. Nina Batorek Lukač, dr. Kevin Kress, dr. Marjeta Čandek-Potokar, dr. Gregor Fazarinc, dr. Martin Škrlep, Klavdija Poklukar, dr. Raffael Wesoly, dr. Volker Stefanski in dr. Milka Vrecl
Original article published in: https://onlinelibrary.wiley.com/doi/full/10.1111/andr.13219
The veterinarian on duty
Emergency veterinary assistance for dogs and cats and a telephone number of constant readiness.
Library
A wide selection of domestic and foreign professional literature in the field of veterinary medicine and other sciences.
News list
Subscribe to our service announcements and helpful tips.
Important Numbers
Registration number, Activity code, Bank Account, Tax code.
NVI On-Call Service
List of staff on standby for purposes of control.
Location
Gerbičeva 60
SI-1000 Ljubljana
Slovenija
Sample Reception
Samples are received at several locations throughout Slovenia. See where.