Coronavirus – The Role of Animals in the Development of Vaccines
Posodobljeno dne 21. 10. 2020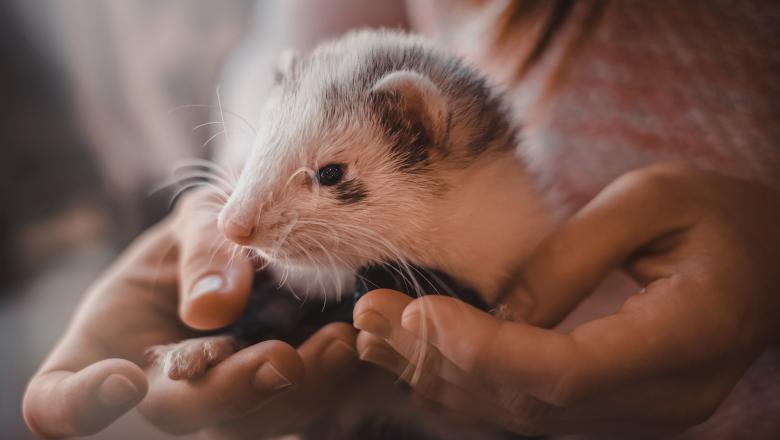 A safe and effective vaccine against SARS-CoV-2 could be key in curbing the COVID-19 pandemic and ensuring human health.
The production of vaccines is a demanding and time-consuming process based on a variety of different studies, including the choice of the species of animal on which the vaccine will be tested. To date, researchers have tested Syrian hamsters (Mesocricetus auratus) and ferrets (Mustela putorius furo). Both species of animals were found to develop clinical signs of respiratory and gastrointestinal disease with experimental SARS-CoV-2 infection when exposed to a large amount of the virus. All the infected animals recovered. Syrian hamsters also developed antibodies against SARS-CoV-2 viruses following infection. The animals in both experiments eliminated the virus that infected the uninfected animals living with them. The results of these studies indicate that under experimental conditions SARS-CoV-2 can be transmitted from infected to healthy Syrian hamsters and ferrets. However, this does not mean that this vrius can be transmitted from people to these two species of animals, or vice versa, or that these two species could transmit the virus and could be infected by humans. For the time being, there is no evidence of the virus being transmitted from animals to humans, and according to all known data, pets do not pose a risk to humans.
The veterinarian on duty
Emergency veterinary assistance for dogs and cats and a telephone number of constant readiness.
NVI On-Call Service
List of staff on standby for purposes of control.
Sample Reception
Samples are received at several locations throughout Slovenia. See where.
Location
Gerbičeva 60
SI-1000 Ljubljana
Slovenija
Library
A wide selection of domestic and foreign professional literature in the field of veterinary medicine and other sciences.
Important Numbers
Registration number, Activity code, Bank Account, Tax code.
News list
Subscribe to our service announcements and helpful tips.