Continuous Blood Sugar Readings of Pika the Puppy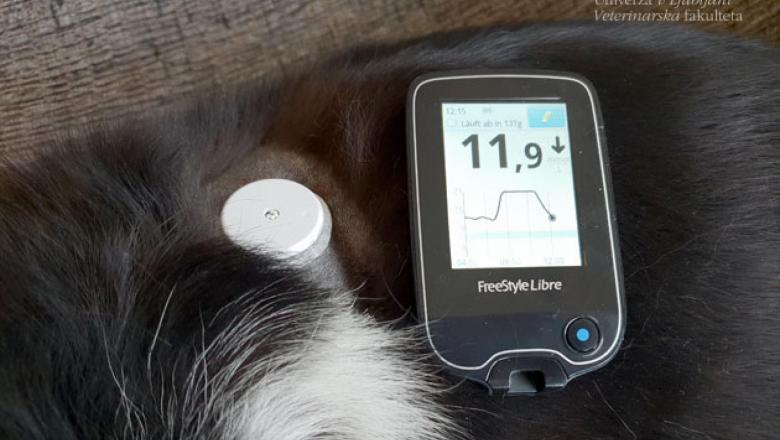 Pika is one of the first dogs in Slovenia to have a continuous blood sugar meter inserted. Instead of repeatedly tickling her ears, her owners will at any time in the next two weeks bring the reader closer to the meter she has inserted and thus immediately find out her glucose concentration, which is essential for good diabetes control.
The system for continuous measuring of glucose determines glucose concentration in subcutaneous tissue using a small, flexible probe. The probe is inserted into the subcutaneous area and connected to a recording device that is attached to the animal. It records the glucose concentration in extracellular fluids every five minutes. The data is transferred from the recording device to a mobile device, and from these data, very accurate data on daily changes in blood glucose concentration is obtained.
It is highly recommended that every owner of an animal with diabetes learns how to independently measure blood glucose. Measuring glucose in the home environment has several advantages over doing so at a veterinary clinic. Measurements can be made several times a day, and the results are more realistic since the effects of stress during a visit to the vets are avoided. Stress, especially in cats, can temporarily significantly increase blood glucose levels, so the results measured in a veterinary clinic may be unreliable. Glucose is usually measured in a drop of blood using an automatic glucose meter, similar to the case in humans. A glucose droplet can be obtained either from the ear, the paw or from the oral mucous membrane.
The ability to continuously measure glucose is currently limited to reference endocrinology clinics and for hospital use in critical patients. It is not yet available for universal use in Slovenia.
Author: Assist. Prof. Darja Pavlin, DVM
The veterinarian on duty
Emergency veterinary assistance for dogs and cats and a telephone number of constant readiness.
Library
A wide selection of domestic and foreign professional literature in the field of veterinary medicine and other sciences.
News list
Subscribe to our service announcements and helpful tips.
Important Numbers
Registration number, Activity code, Bank Account, Tax code.
NVI On-Call Service
List of staff on standby for purposes of control.
Location
Gerbičeva 60
SI-1000 Ljubljana
Slovenija
Sample Reception
Samples are received at several locations throughout Slovenia. See where.