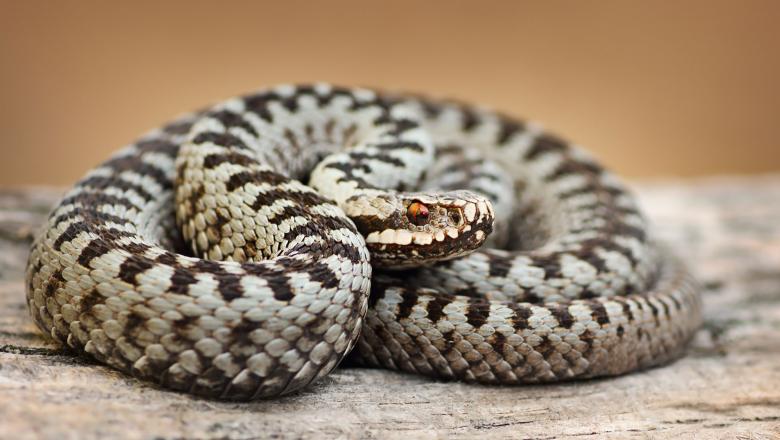 The season of snake activity is in fully swing and, consequently, the occasional occurrence of snake bites in dogs.
There are three types of poisonous snakes in Slovenia: horned viper (Vipera ammodytes), common adder (Vipera berus) and the asp viper (Vipera aspis). Due to their curiosity, it is most often young dogs that are the victims of snake bites. Snakes most often bite dogs in the head or limbs. Clinical signs of poisoning usually develop within two hours but can also appear a few hours after a bite. The clinical condition can severely worsen within 24 hours of a bite, therefore it is advisable to take dogs to an animal hospital for treatment regardless of whether or not they are showing any signs of poisoning.
The seriousness of the clinical signs depends on various factors: the location of the bite; the weight, age and general health of the dog; the type, size and age of the snake; and how much venom the snake has excreted. The severity of the poisoning is also determined by the amount of poison excreted based on the victim's body weight. Following an adder bite, clinical signs occur in dogs in about 97% of cases. About two-thirds of affected dogs develop both systemic and local effects, while one-third develop only local poison effects. In less than 3% of dogs the effect is asymptomatic, i.e. without any visible signs of illness. For this 3% it can be assumed that a snake bite did not occur at all or that the bite was 'dry', i.e. that poison was not excreted.
Given that it is less likely that dogs without clinical signs are taken to a vet, the frequency of 'dry' bites may be underestimated. There are no statistics available of dogs bitten by horned vipers and asp vipers. Although bites are painful and can lead to many complications, they are rarely fatal and most dogs recover completely. Various studies report different mortality rates, mentioning rates of death of between 3.5% and 4.6%.
First aid
If your animal is bitten by a poisonous snake or you suspect that it has been, you should seek veterinary assistance immediately. Try to calm the dog as much as possible and carry it rather than let it walk, if at all possible. Rest slows the spread of poison from the bite into the bloodstream. Never suck the poison from the wound or bandage the affected area, as this may cause additional damage.
Clinical signs
Snake bites in dogs can cause both systemic and local effects. Swelling, hematoma/bleeding and pain can occur locally. Local swelling after 24 hours may be the same or may increase significantly; spreading from the affected limb to the body is less frequent. Systemic signs often include hypersensitivity reactions, shock, accelerated shallow breathing and accelerated heartbeat, enlargement of the affected lymph nodes, and heart rhythm disturbances. Liver and kidney injuries are somewhat less common. The clinical response of the victim to the poison is the only way to assess the severity of each snake bite. It is recommended that dogs are hospitalised and intensively monitored for at least 24 hours following a snake bite. The minimum extent of examinations should include a complete blood count, a creatinine test, a blood clotting assessment (PT and aPTT), an ECG, a haematocrit and total protein test, and measurement of blood pressure. Treatment should always be adapted to the animal's clinical condition.
Therapy
Treatment is overwhelmingly supportive and consists of fluid therapy, antihistamines, and pain management. The routine use of antibiotics in dogs after snake bites is not required, but prophylactic use of broad-spectrum antibiotics in dogs with extensive necrosis is reasonable.
Specific therapy:
Antivenom is advised for potentially serious cases, such as a bite to the face, the appearance of systemic signs (e.g. heart rhythm disturbances, blood clotting disorders, including thrombocytopenia, lack of response of low blood pressure to treatment), or rapidly progressing local swelling. In these cases it is sensible to use antivenom as soon as possible after the bite for maximum effect. It is unlikely that antivenom will have an effect on a local level if used more than 24 hours after a bite, however, its use is still indicated as long as systemic signs of intoxication are present. Response to antivenom is often rapid - dogs should show an improvement in their general condition, systemic signs disappear, and the spreading of local oedema stops. Using antivenom can cause a hypersensitivity reaction because it contains proteins that are foreign to the body, therefore it should always be used only in serious cases that are potentially life-threatening to animals.
The clinical signs of poisonous snake bites are very diverse, so each case should be treated individually, and owners should be informed of any unexpected complications that may occur despite intensive therapy for several days following the bite. The most common complications after a poisonous snake bite are bacterial infections, local necrosis at the location of the bite, obstruction of the upper respiratory tract due to oedema of the throat, disseminated intravascular coagulation, acute renal failure and severe thrombocytopenia.
Prevention
Dogs are repeatedly bitten because, due to their curious nature, they can disturb snakes whilst exploring the undergrowth, thus provoking an attack. Most encounters occur during the active snake season between March and October. Snakes are actually quite timid in nature and will usually not bite unless they feel threatened or cornered. They prefer to retreat, provided they have the opportunity to do so. Upon encountering a snake in the wild, owners should ensure they first stop and calm down and allow the snake to move away. Try to avoid bites by taking care when walking, and by making noise, so that snakes can detect you in time and may retreat. In terms of keeping your dog safe, be sure to keep it under control (preferably on a lead) and guide it along trodden paths, especially in areas where you know that snakes can appear in warmer months, or avoid walking in such terrain during this time. You can also train your dog to leave snakes alone or to immediately come back to you if it encounters one.

This year the Small Animal Clinic has dealt with several cases of poisonous snake bites in dogs. Given the increasing number of cases compared to previous years, additional caution in exposed areas is advised.
This article is informative. In the event of problems with animals, it is essential to contact a veterinarian immediately.
Author: Petra Jelovčan

The veterinarian on duty
Emergency veterinary assistance for dogs and cats and a telephone number of constant readiness.
Library
A wide selection of domestic and foreign professional literature in the field of veterinary medicine and other sciences.
News list
Subscribe to our service announcements and helpful tips.
Important Numbers
Registration number, Activity code, Bank Account, Tax code.
NVI On-Call Service
List of staff on standby for purposes of control.
Location
Gerbičeva 60
SI-1000 Ljubljana
Slovenija
Sample Reception
Samples are received at several locations throughout Slovenia. See where.