Minister za kmetijstvo, gozdarstvo in prehrano obiskal Veterinarsko fakulteto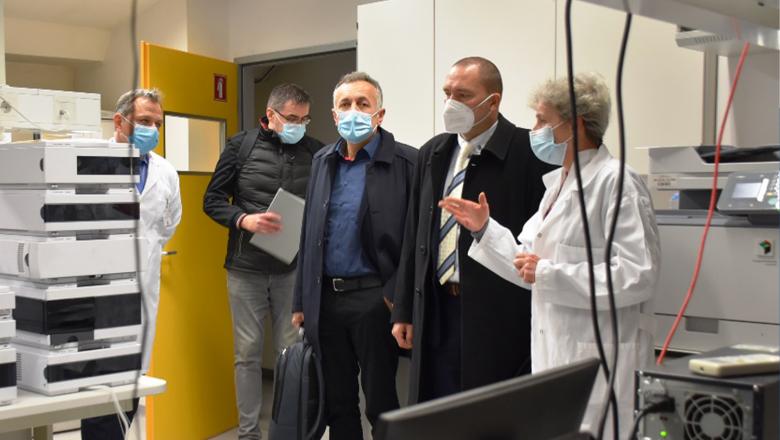 Avtor: Ministrstvo za kmetijstvo, gozdarstvo in prehrano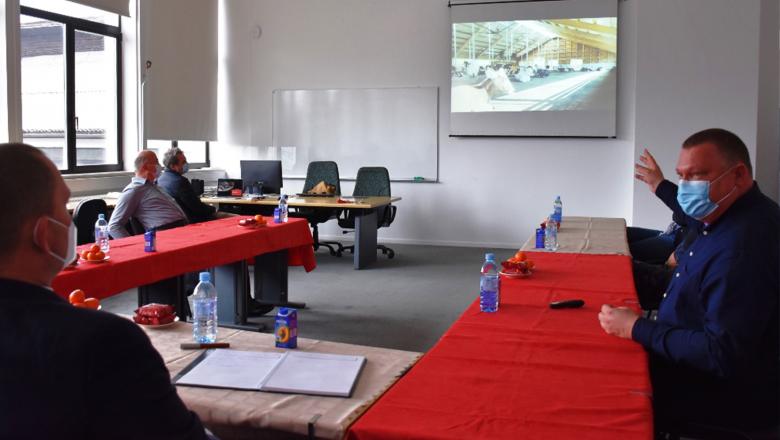 Avtor: Ministrstvo za kmetijstvo, gozdarstvo in prehrano
Minister dr. Jože Podgoršek je na povabilo dekanje obiskal Veterinarsko fakulteto, kjer se je seznanil z aktivnostmi fakultete, Nacionalnega veterinarskega inštituta in aktivnostmi, ki jih vodimo glede Nacionalnega centra za dobrobit živali ter na CSR Vremščica.
»Izzivi, ki naslavljajo veterinarsko stroko v povezavi z vzgojo in izobraževanjem mladih, so zelo pomembni za prihodnje slovensko kmetijstvo, zdravje in varstvo potrošnika ter zdravje in dobrobit živali. Izobraževanje na področju veterinarske stroke terja posebno organiziranost in prilagoditev posebnostim pedagoškega, raziskovalnega in strokovno operativnega dela na fakulteti, ki ima tudi temeljno poslanstvo na področju razvoja veterinarske klinične dejavnosti.«
V ospredju današnjega obiska je bila predstavitev fakultete, dejavnosti NVI in aktivnosti, ki jih vodimo glede Nacionalnega centra za dobrobit živali ter na CSR Vremščica. Minister je glede Nacionalnega centra za dobrobit živali dejal, da »tak center v Sloveniji potrebujemo zaradi tega, ker je čedalje več vprašanj, kdaj z živaljo ravnamo ustrezno in kdaj ne. Na ta vprašanja mora odgovoriti stroka, zato takšen center potrebujemo. Uporabljali ga bomo za izobraževanje glede ravnanja z živalmi in presojo o ravnanju.«
Ministru smo predstavili tudi delovanje NVI, ki si ga je ob koncu obiska tudi ogledal. »Ta predstavlja enega najpomembnejših centrov za izvajanje javne veterinarske službe. Ena od njegovih ključnih nalog je tudi opravljanje veterinarsko higienske službe. Kako pomembno je njihovo delovanje, se je pokazalo v preteklih dveh tednih, ko smo v Sloveniji zabeležili večje število okužb z aviarno influenco.«
Ministru smo predstavili še projekte, ki jih vodimo na CSR Vremščica. »Pogovorili smo se o razvojnih možnostih na dislocirani enoti na vremščici. Tam imajo zelo jasno vizijo širitve in približevanja splošni javnosti, ko gre za rejo ali pa dobrobit živali in razvoju turizma.«
Minister dr. Jože Podgoršek je po srečanju dejal, da imamo z zelo veliko skupnih točk za pogovor. »Tudi ko govorimo o izvedbenem delu skupne kmetijske politike za novo programsko obdobje 2023 – 2027, ne smemo prezreti, da smo že v fazi priprave strateškega načrta poudarjali, da ne bomo podpirali ukrepov, ki ne bodo sledili najsodobnejšim trendom dobrobiti živali. Zato potrebujemo partnerja, ki nam bo v pomoč pri presoji in pri pripravi izvedbenih aktov. Ustrezno ravnanje in nasploh dobrobit živali je vedno bolj pomembno, pobude in pričakovanja državljanov so vedno večje, zato je to je tema, ki ji bomo posvečali vedno več pozornosti in pri kateri imamo ničelno toleranco do napačnega ravnanja z živalmi.«
The veterinarian on duty
Emergency veterinary assistance for dogs and cats and a telephone number of constant readiness.
Library
A wide selection of domestic and foreign professional literature in the field of veterinary medicine and other sciences.
News list
Subscribe to our service announcements and helpful tips.
Important Numbers
Registration number, Activity code, Bank Account, Tax code.
NVI On-Call Service
List of staff on standby for purposes of control.
Location
Gerbičeva 60
SI-1000 Ljubljana
Slovenija
Sample Reception
Samples are received at several locations throughout Slovenia. See where.