Afriška prašičja kuga: kampanja ozaveščanja za preprečevanje pojava bolezni pri nas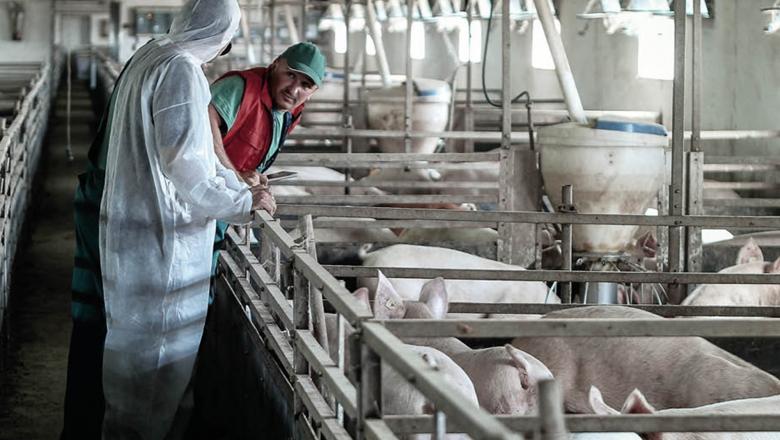 Evropska agencija za varnost hrane (EFSA) v 18 državah po Evropi, tudi v Sloveniji, začenja s kampanjo za zajezitev širjenja afriške prašičje kuge (APK).
Afriška prašičja kuga (APK) je virusna bolezen, ki prizadene domače in divje prašiče. Virus je neškodljiv za zdravje ljudi, vendar je v mnogih državah že povzročil obsežno gospodarsko škodo. Ker cepiva ni, lahko izbruh zahteva pokončanje velikega števila domačih prašičev na prizadetih območjih. Bolezen v Sloveniji zaenkrat še ni prisotna, vendar pa smo zaradi bližine državam, ki se že soočajo z APK, del tako imenovane "zaskrbljujoče regije". EFSA je zato že lansko poletje v sodelovanju z lokalnimi pristojnimi organi v regiji začela s kampanjo ozaveščanja, letos pa jo je razširila na dodatnih devet držav.
Kampanja, ki je namenjena predvsem rejcem, letos poleg Slovenije poteka še v Albaniji, Bosni in Hercegovini, Črni gori, Grčiji, Hrvaški, Kosovu, Severni Makedoniji, Srbiji, Bolgariji, Češki, Estoniji, Latviji, Litvi, Madžarski, Poljski, Romuniji in Slovaški.
Znatna škoda za prašičerejo in gospodarstvo
Pojav APK ima velik ekonomski pomen, saj škode, ki nastanejo zaradi pojava bolezni, prizadenejo predvsem prašičerejo in gospodarstvo (pogin prašičev, omejitev mednarodne trgovine z živalmi in mesom, gospodarska izguba za rejce in lovce) ter divje živali in lov (znatno zmanjšanje populacije divjih prašičev, omejitev ali popolna prepoved lova na nekaterih območjih).
Prepoznajte znake bolezni, preprečite širjenje in prijavite sumljive primere
Zgodnje prepoznavanje znakov bolezni, preprečevanje širjenja in prijava sumljivih primerov so ključnega pomena za obvladovanje APK. Kampanja je namenjena ozaveščanju in razumevanju znakov bolezni in ukrepov za preprečevanje širjenja v vseh 18 državah. Ciljna skupina so tisti, ki so v rednem stiku z domačimi in divjimi prašiči, zlasti prašičerejci. Kampanja se bo izvajala s pomočjo lokalnih veterinarskih organizacij, kmetijskih organizacij, lovskih društev, mejne policije in drugih ustreznih organov.
Nikolaus Kriz, vodja enote za zdravje živali in rastlin EFSA, je dejal: "EFSA je znanstvena organizacija, odgovorna za pripravo ocen stanja in priporočil državam, ki jih ogroža afriška prašičja kuga, da lahko pravočasno zaščitijo živali in gospodarstvo."
"V lanskem letu smo se odločili, da znanost prenesemo na teren in pokažemo, da se agencija EFSA res zavzema za rejce in druge, ki živijo v senci te grozne bolezni. Kampanja je bila v prvi skupini držav dobro sprejeta, zdaj pa nadaljujemo pot po terenu z našim sporočilom: Odkrivajte, preprečujte in poročajte."
Kampanja dopolnjuje ukrepe, ki jih za izkoreninjenje APK v Evropi že izvajajo Evropska komisija in druge mednarodne organizacije ter države same.
The veterinarian on duty
Emergency veterinary assistance for dogs and cats and a telephone number of constant readiness.
Library
A wide selection of domestic and foreign professional literature in the field of veterinary medicine and other sciences.
News list
Subscribe to our service announcements and helpful tips.
Important Numbers
Registration number, Activity code, Bank Account, Tax code.
NVI On-Call Service
List of staff on standby for purposes of control.
Location
Gerbičeva 60
SI-1000 Ljubljana
Slovenija
Sample Reception
Samples are received at several locations throughout Slovenia. See where.