Z matičnimi celicami v boj tudi proti Alzhaimerjevi bolezni – pomembno odkritje raziskovalcev Veterinarske fakultete
Raziskovalci Veterinarske fakultete v Ljubljani so v eni od vodilnih revij s področja veterinarske medicine objavili rezultate raziskave, v kateri so dokazali, da je mogoče pasje matične celice iz maščobe spremeniti v živčne celice.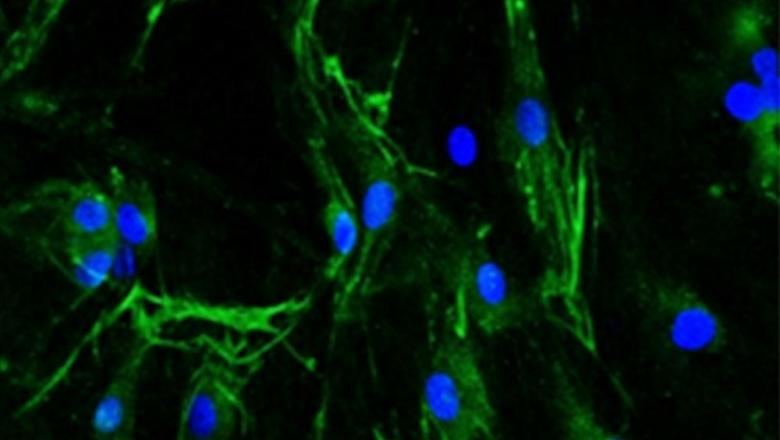 Živčne celice, vzgojene iz pasjih matičnih celic iz maščobe
V raziskavi so preverili delovanje različnih dejavnikov, ki v telesu usmerjajo pravilen razvoj živčnih celic in odkrili pravo kombinacijo dejavnikov, ki pasje matične celice iz maščobe spodbudi k pretvorbi v živčne celice. Zaenkrat so diferenciacijo celic dokazali glede na njihovo obliko in aktivnost genov v pogojih in vitro, v nadaljnjih raziskavah pa bo potrebno ugotoviti, ali takšne celice tudi delujejo kot živčne celice v živem organizmu.
Ta raziskava je pomembna predvsem z dveh vidikov – odraslim matičnim celicam se običajno pripisuje slabša sposobnost pretvorbe v različna tkiva, ta raziskava pa kaže, da je možen prehod med zelo različnimi tipi celic, kot so maščobne matične celice in živčne celice, brez predhodne dediferenciacije celic v nediferencirane matične celice. Če se bo izkazalo, da te celice tudi funkcionalno delujejo kot živčne celice, pa bi to lahko v prihodnosti pomenilo pomemben premik pri zdravljenju nevrodegenerativnih bolezni. Psi pogosto obolevajo za boleznijo, podobno alzheimerjevi bolezni pri ljudeh, in ena od možnosti za zdravljenje v prihodnosti predstavljajo prav matične celice, ki bi jih predhodno razvili v živčne celice. S proučevanjem te bolezni in možnosti njenega zdravljenja se ukvarjajo tudi raziskovalci na Veterinarski fakulteti v Ljubljani, k kliničnim raziskavam pri psih, ki bodo lahko kasneje zanimive tudi za zdravljenje nevrodegenerativnih bolezni pri ljudeh, pa bodo prispevali tudi rezultati raziskave slovenskih raziskovalcev.
Več informacij o raziskavi lahko dobite pri vodilnem avtorju raziskave prof. dr. Gregorju Majdiču, elektronski naslov gregor.majdic@vf.uni-lj.si.
The veterinarian on duty
Emergency veterinary assistance for dogs and cats and a telephone number of constant readiness.
Library
A wide selection of domestic and foreign professional literature in the field of veterinary medicine and other sciences.
News list
Subscribe to our service announcements and helpful tips.
Important Numbers
Registration number, Activity code, Bank Account, Tax code.
NVI On-Call Service
List of staff on standby for purposes of control.
Location
Gerbičeva 60
SI-1000 Ljubljana
Slovenija
Sample Reception
Samples are received at several locations throughout Slovenia. See where.