Brezplačni specialistični pregledi ustne votline in zob pri delovnih psih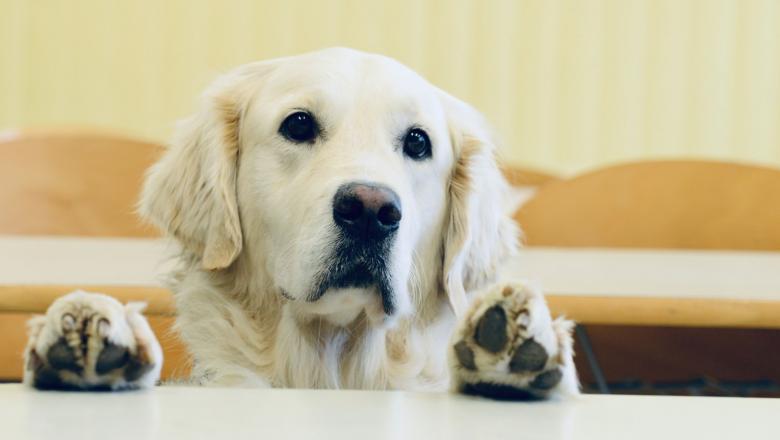 "Šapa v šolskih klopeh" iz arhiva Društva Tačke pomagačke
Zdrava ustna votlina za odlične delovne rezultate - program brezplačnih specialističnih pregledov ustne votline in zob delovnih psov.
Kot bi mignil je leto naokrog in čas je za preventivni pregled ustne votline in zob! Za tiste, ki ste z nami od začetka, tokrat že sedmič.
V mesecu juliju vas ponovno vabimo, da se s svojim psom ali psi vključite v program brezplačnih specialističnih pregledov ustne votline in zob. Program je namenjen psom, ki s svojim delom brezkompromisno služijo družbi – policijskim in vojaškim psom, psom vodnikom, reševalcem in terapevtom. Cilj programa je, da se tem živalim zagotovi zdravje zob in ustne votline. Bolezni zob in ustne votline namreč živali lahko povzročajo nelagodje in bolečino ter tako vplivajo na delovno sposobnost psa. Nekatere ustne bolezni pa so lahko tudi življenje ogrožajoče, predvsem če niso odkrite zgodaj.
Ker smo se letos privadili spletnega druženja, bomo tako tudi začeli…v četrtek, 2. julija 2020 ob 20:00 se dobimo za domačimi računalniki ob uvodnem spletnem predavanju "Kdaj res ne smem odlašati z obiskom pasje zobozdravnice ?". Sledite nam, dostopne podatke bomo objavili naknadno.
Ker pa se neradi družimo samo virtualno in ker je zobe težko kazati v kamero, se ob sobotah v juliju 2020 med 8:00 in 9:00 srečamo na Kliniki za male živali Veterinarske fakultete Univerze v Ljubljani (Cesta v Mestni Log 47, 1000 Ljubljana). Na pregled se naročite po e-pošti Ani Nemec na ana.nemec@vf.uni-lj.si ali telefonsko na recepciji Klinike (01/4779-277).
Brezplačne preglede bo opravila specialistka veterinarske stomatologije, doc. dr. Ana Nemec, dr. vet. med., Dipl. AVDC, EVDC. Ob tem je potrebno omeniti, da je natančnost pregleda ustne votline psov v veliki meri odvisna od tega, koliko pes dovoli pregled ustne votline, ker pri pregledu živali ne bomo uporabili nikakršnih pomiril ali anestetikov. Po opravljenem pregledu bo vodnik in/ali lastnik živali obveščen o izvidu pregleda s predlaganim planom morebitne nadaljnje diagnostike in zdravljenja. Nadaljnja diagnostika in zdravljenje v sam program nista vključeni. Ob pregledu se bo specialistka veterinarske stomatologije z vami (lastnikom ali vodnikom delovnega psa) pogovorila tudi o pomenu in pravilnem izvajanju redne ustne higiene doma ter pomenu preventivnih pregledov.
Veselimo se vašega obiska!

The veterinarian on duty
Emergency veterinary assistance for dogs and cats and a telephone number of constant readiness.
Library
A wide selection of domestic and foreign professional literature in the field of veterinary medicine and other sciences.
News list
Subscribe to our service announcements and helpful tips.
Important Numbers
Registration number, Activity code, Bank Account, Tax code.
NVI On-Call Service
List of staff on standby for purposes of control.
Location
Gerbičeva 60
SI-1000 Ljubljana
Slovenija
Sample Reception
Samples are received at several locations throughout Slovenia. See where.