Borelioza in lejšmanioza pri psih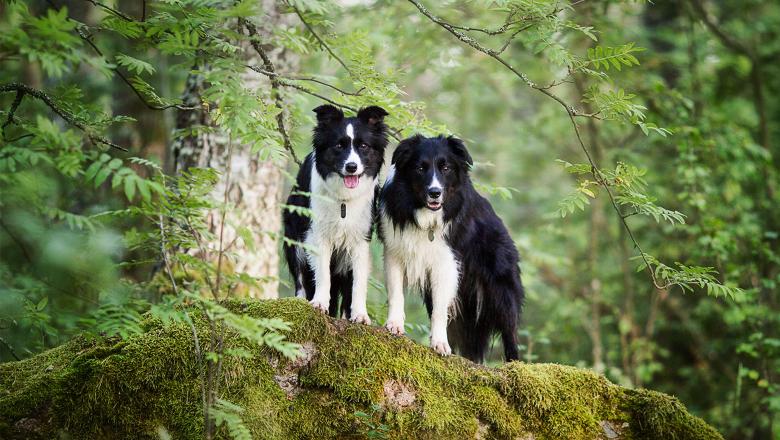 Marsikdo ob omembi klopno prenosljivih bolezni najprej pomisli na lymsko boreliozo: na šepanje, poliartritis in madež, ki obkroži mesto vboda klopa.
Vendar se borelioza pri psu razlikuje od borelioze pri človeku. Še več - znanstveniki celo raziskujejo možnost, da evropski sevi Borreliae burgdorferi sploh niso patogeni za pse. To pa ne pomeni, da vam ni treba zaščititi vaših psov pred klopi v sezoni, saj klopi prenašajo tudi druge povzročitelje. Pomeni pa to, da vam veterinar ne bo nujno priporočil testiranja na boreliozo ob vsakem šepanju.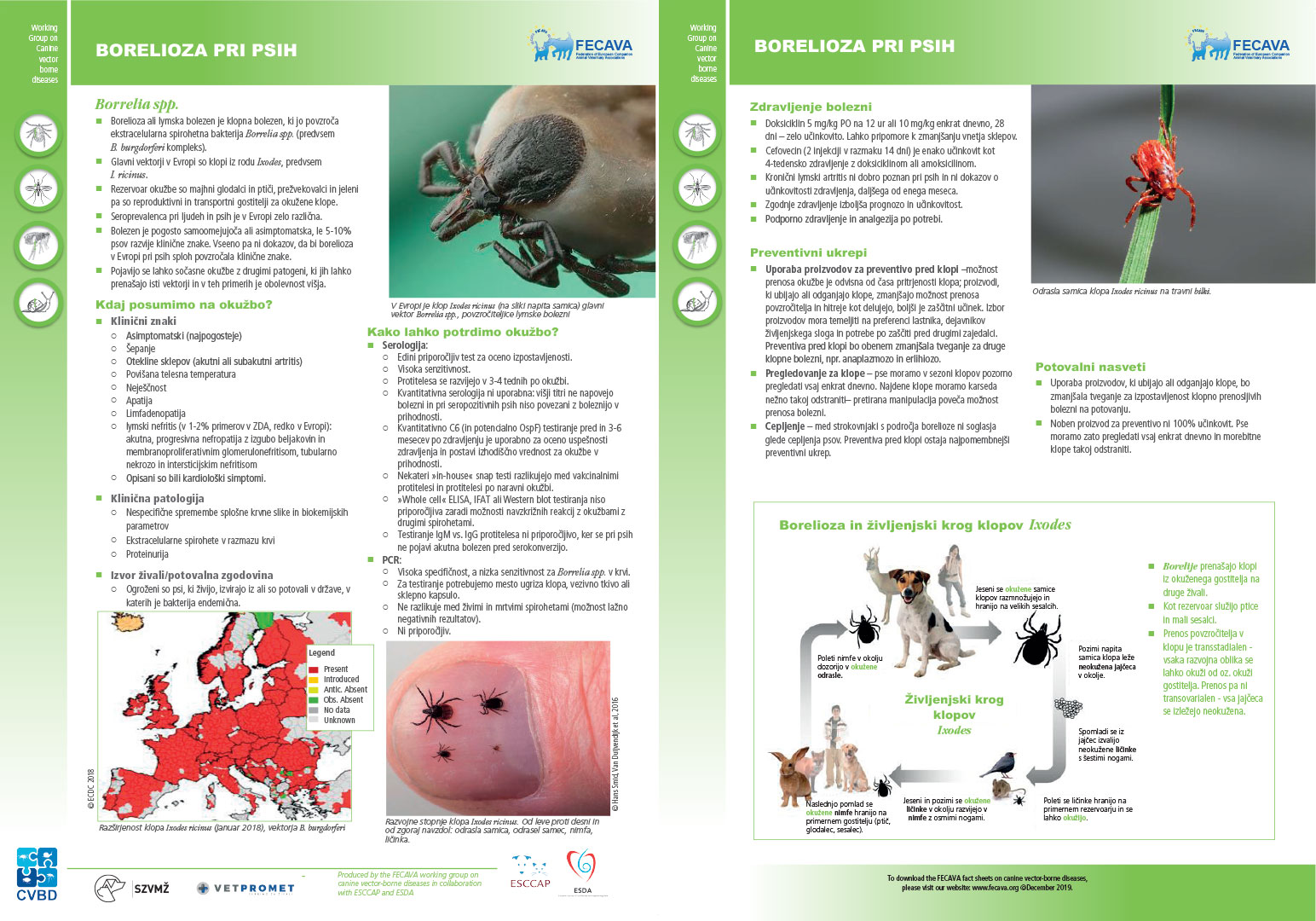 Drugi poster se nanaša na lejšmaniozo. Preberite, katere so endemične države za lejšmaniozo in kako zaščitite svojega psa. Podatki raziskave iz leta 2019, ki je bila opravljena na Veterinarski fakulteti v sodelovanju z Medicinsko fakulteto kažejo, da lejšmanioze v avtohtonem izvoru v Sloveniji še nimamo. Kljub temu se psi pogosto okužijo, ko gredo z lastniki na dopust v endemične države, tako da žal ta bolezen slovenskim veterinarjem ni več tuja.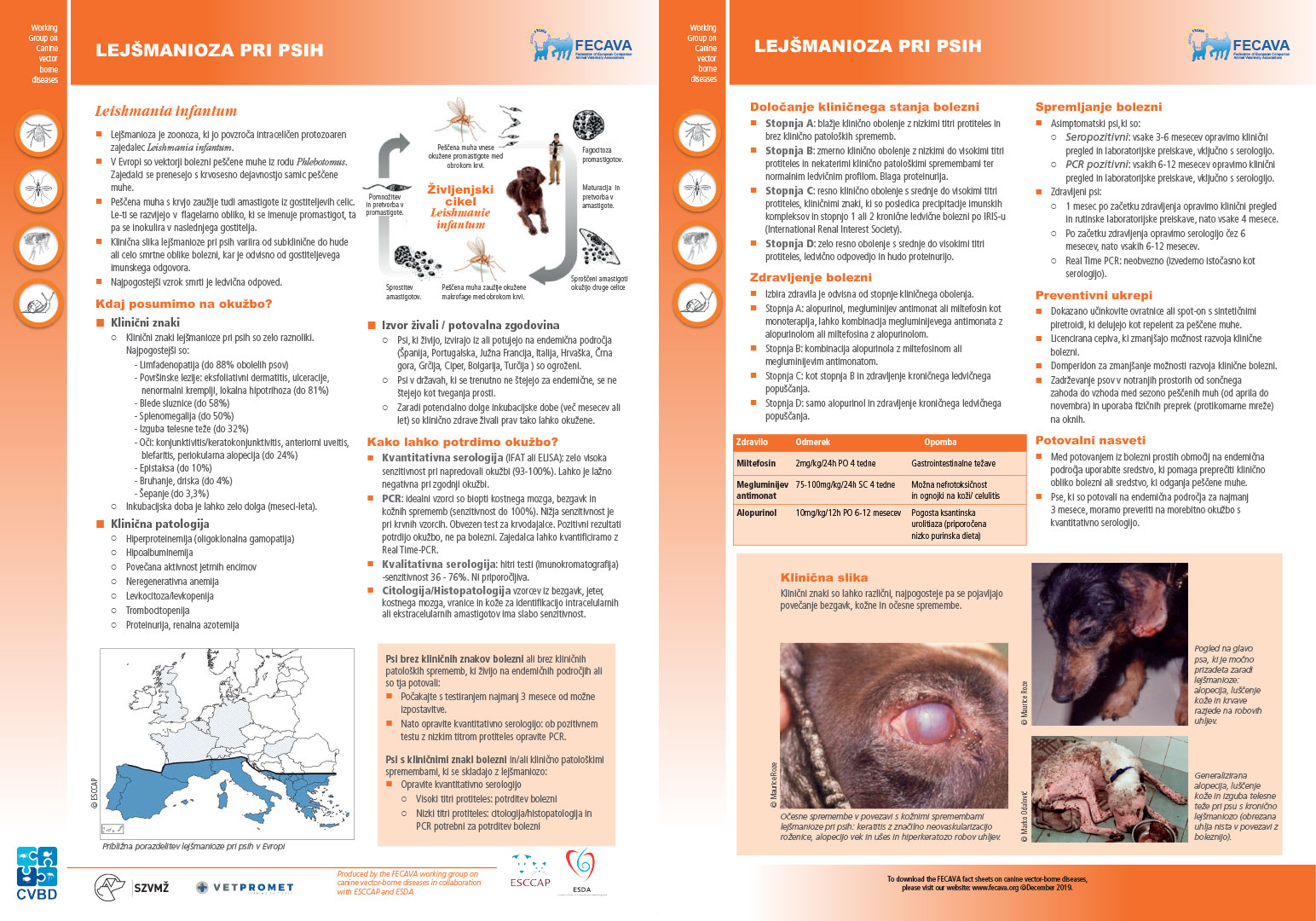 Pojdite na sprehod s svojim psom, le zaščiten naj bo pred klopi!
Avtor: asist. dr. Urša Ravnik Verbič
The veterinarian on duty
Emergency veterinary assistance for dogs and cats and a telephone number of constant readiness.
Library
A wide selection of domestic and foreign professional literature in the field of veterinary medicine and other sciences.
News list
Subscribe to our service announcements and helpful tips.
Important Numbers
Registration number, Activity code, Bank Account, Tax code.
NVI On-Call Service
List of staff on standby for purposes of control.
Location
Gerbičeva 60
SI-1000 Ljubljana
Slovenija
Sample Reception
Samples are received at several locations throughout Slovenia. See where.