Webinar: Stomatitisi in druge neparodontalne vnetne bolezni ustne votline psov in mačk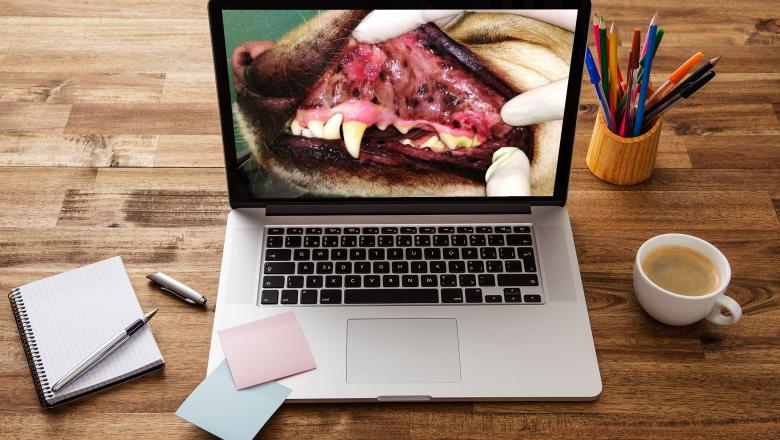 Medtem ko so bolezni obzobnih tkiv (parodontalne bolezni) najpogostejše vnetne bolezni ustne votline psov in mačk, saj prizadenejo praktično vsako žival, starejšo od 3 leta, pa so druge vnetne bolezni ustne votline precej redke in nemalokrat predstavljajo diagnostični in terapevtski izziv.
Večina stomatitisov pri psih in mačkah namreč poleg natančnega kliničnega pregleda zahteva tudi dodatne patohistološke in mikrobiološke preiskave, preden lahko suvereno uvedemo zdravljenja, ki so ponavadi dolgotrajna.
Tudi v tem seminarju bomo ob veliko slikovnega gradiva obravnavali najpogostejše neparodontalne vnetne bolezni ustne votline psov in mačk, kot so na primer kronični gingivostomatitis mačk, stomatitis psov, eritema multiforme, eozinofilni kompleks, osteomielitis, osteonekroza, uremični stomatitis in miozitis žvekalne mišičnine. Posvetili se bomo kliničnim znakom in patohistološkemu izgledu, ustreznim postopkom odvzema vzorcev in potrebni slikovni diagnostiki, spoznali pa se bomo tudi z metodami zdravljenja teh bolezni. Seminar bomo zaključili z diskusijo primerov, kjer bomo spoznali, da se te bolezni nemalokrat kažejo kot nekaj, kar niso.
Cilj seminarja je slušateljem predati znanje, ki je takoj prenosljivo v vsakdanje klinično delo, z namenom, da bo zgodnje prepoznavanje teh bolezni vodilo do ustreznejšega in uspešnejšega zdravljenja.
Seminar bomo v sredo, 22. 4. 2020 izpeljali preko spleta na eni izmed platform, ki nam bo omogočala interaktivno delo s slušatelji. Vsa navodila za dostop boste prejeli najkasneje na dan seminarja dopoldan na e-poštni naslov, ki ste nam ga zaupali ob prijavi.
Več o seminarju in prijavah najdete pod točko 20 na povezavi, ali pišete na permanentno.izobrazevanje@vf.uni-lj.si.
Ostanimo doma.
Ana Nemec in Tamara Dolenšek

The veterinarian on duty
Emergency veterinary assistance for dogs and cats and a telephone number of constant readiness.
Library
A wide selection of domestic and foreign professional literature in the field of veterinary medicine and other sciences.
News list
Subscribe to our service announcements and helpful tips.
Important Numbers
Registration number, Activity code, Bank Account, Tax code.
NVI On-Call Service
List of staff on standby for purposes of control.
Location
Gerbičeva 60
SI-1000 Ljubljana
Slovenija
Sample Reception
Samples are received at several locations throughout Slovenia. See where.