Webinar - Novotvorbe v ustni votlini psov in mačk: klinično-patološke korelacije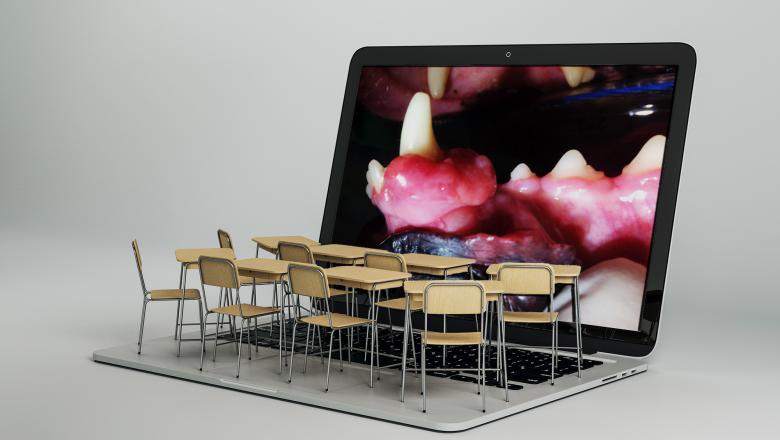 Veliko rakavih bolezni ustne votline, zlasti pri psih, je ozdravljivih, če so le-te odkrite in zdravljene dovolj zgodaj.
Zato je nadvse pomembno, da sebi in stranki veterinarji čim prej odgovorimo na 3 vprašanja, ko smo soočeni z izrastkom v ustni votlini psa ali mačka:
Kaj novotvorba je?
Kako velika je novotvorba?
Ali je novotvorba zasevala?
Da lahko suvereno odgovorimo na ta vprašanja, pa moramo poznati možne novotvorbe v ustni votlini psov in mačk in predvsem njihovo biološko vedenje. V seminarju z veliko slikovnega gradiva bomo obravnavali najpogostejše novotvorbe, ki se lahko pojavijo v ustni votlini psov in mačk, njihov klinični in patohistološki izgled ter biološko vedenje, ustrezne postopke odvzema vzorcev in potrebno slikovno diagnostiko, spoznali pa se bomo tudi z možnimi metodami zdravljenja teh bolezni. V diskusiji bomo na kliničnih primerih spoznali tiste, pri reševanju katerih je ključnega pomena tesno sodelovanje klinikov in patohistologov.
Cilj seminarja je slušateljem predati znanje, ki je takoj prenosljivo v vsakdanje klinično delo, z namenom, da bo odkrivanje in zdravljenje rakavih bolezni ustne votline psov in mačk zgodnejše in s tem oskrba pacientov boljša.
Seminar smo bili primorani zaradi izrednih razmer prestaviti za 1 teden na 25. 3. 2020 ob 16h in ga bomo izpeljali preko spleta na eni izmed platform, ki nam bo omogočala interaktivno delo s slušatelji. Vsa navodila za dostop boste prejeli najkasneje na dan seminarja dopoldan na e-poštni naslov, ki ste nam ga zaupali ob prijavi.
Več o seminarju in prijavah najdete na povezavi pod točko 16, ali pišete na permanentno.izobrazevanje@vf.uni-lj.si
Ostanimo doma.
Ana Nemec in Tamara Dolenšek
The veterinarian on duty
Emergency veterinary assistance for dogs and cats and a telephone number of constant readiness.
Library
A wide selection of domestic and foreign professional literature in the field of veterinary medicine and other sciences.
News list
Subscribe to our service announcements and helpful tips.
Important Numbers
Registration number, Activity code, Bank Account, Tax code.
NVI On-Call Service
List of staff on standby for purposes of control.
Location
Gerbičeva 60
SI-1000 Ljubljana
Slovenija
Sample Reception
Samples are received at several locations throughout Slovenia. See where.