Nitrosative stress in brains from dogs with canine cognitive dysfunction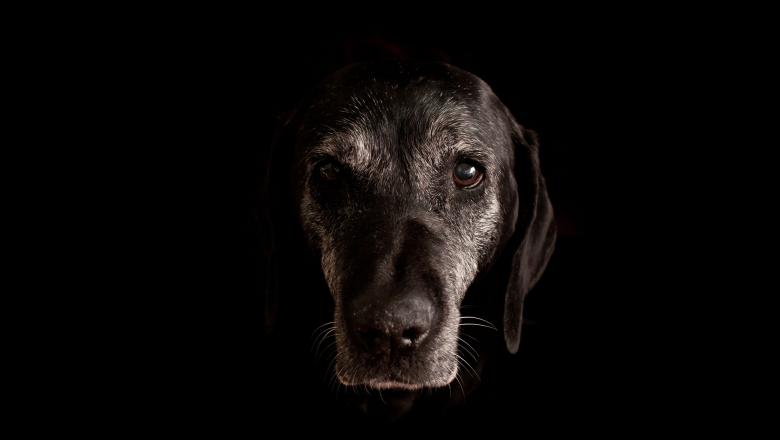 Nitrosative stress in the frontal cortex from dogs with canine cognitive dysfunction.
Canine cognitive dysfunction (CCD) is an age-related disorder similar to human Alzheimer's disease (AD) that occurs in elderly dogs. Nitrosative stress has been implicated as one of the causes leading to neurodegenerative diseases, particularly AD. Its involvement in the development of CCD has not been studied so far. In the present study, immunohistochemical staining detected all three isoforms of nitric oxide synthases (nNOS, eNOS, and iNOS) and 3-nitrotyrosine (3-NT) in brains from CCD-affected dogs and non-demented control dogs in all layers of the canine frontal cortex. In CCD-affected and non-demented brains, nNOS was highly expressed in pyramidal-like neurons in the upper cortical layers. nNOS has also been observed in astrocytes in the CCD frontal cortex. The nNOS immunohistochemical staining was statistically significantly elevated in dogs with CCD in comparison to non-demented dogs. Blood vessel wall cells were positive for eNOS, which was also expressed in astrocytes and neurons. Intense 3-NT immunoreactivity was observed in the upper cortical layers, where amyloid-beta deposits spread in the last stage of CCD. Brain cells in the same area were highly
immunoreactive for iNOS. This infers that neuroinflammation and nitrosative stress might exacerbate the neurodegenerative process in CCD-affected brains, ultimately leading to cognitive impairment.

Slika 1. nNOS protein v pasjih možganih. Slika prikazuje značilno obarvane živčne celice (rjavo) v čelnem režnju 16 letnega shih-tzuja s pasjo kognitivno motnjo. Merili sta dolgi 50 µm.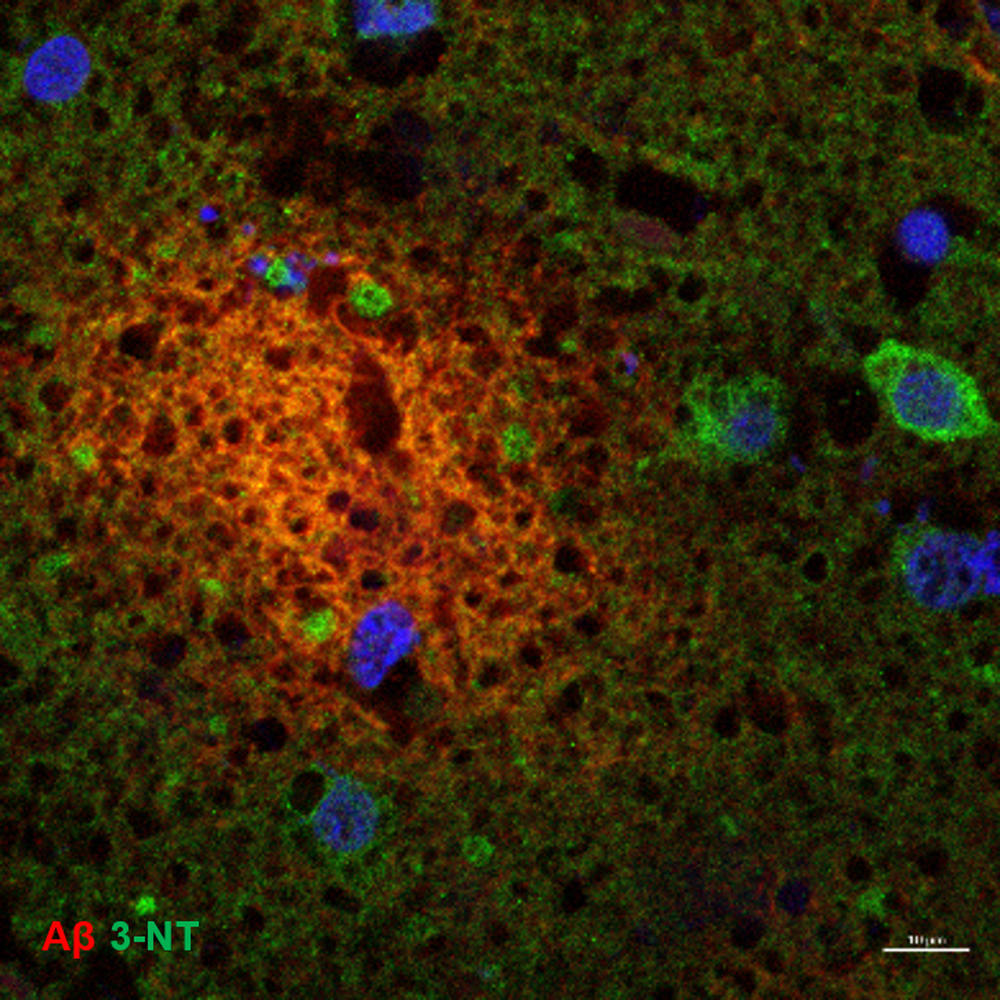 Slika 2. 3-NT v pasjih možganih. 3-NT (zeleno obarvanje) je prisoten v celicah, ki obkrožajo amiloide (Aβ) plake (rdeče obarvanje) pa tudi izven celic v območju plaka. Celična jedra so obarvana modro. Prikazan je čelni reženj 16 letnega jazbečarja s kognitivno motnjo. Merilo je dolgo 10 µm.
The full article is published in Frontiers in Veterinary Science
Authors: Sonja Prpar Mihevc, Maja Zakošek Pipan, Malan Štrbenc, Boris Rogelj, Gregor Majdič
Sample Reception
Samples are received at several locations throughout Slovenia. See where.
The veterinarian on duty
Emergency veterinary assistance for dogs and cats and a telephone number of constant readiness.
Library
A wide selection of domestic and foreign professional literature in the field of veterinary medicine and other sciences.
News list
Subscribe to our service announcements and helpful tips.
Important Numbers
Registration number, Activity code, Bank Account, Tax code.
NVI On-Call Service
List of staff on standby for purposes of control.
Location
Gerbičeva 60
SI-1000 Ljubljana
Slovenija